For some, there is nothing like a relaxing game of golf to make a bed and breakfast getaway complete.  And you'll be glad to know that when you stay at the Inn at Gothic Eves, this pastime can be enjoyed at the Trumansburg Golf Club, located less than one mile from the Inn at 23 Halsey Street!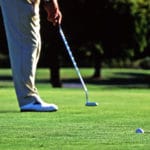 While located right here in our small-town, The T-burg Golf Club is far from a typical small-town course!  Open to the public, this is a beautiful rye-grass design by Bob Tallman (who has designed a  number of courses in the state of New York) that features a wide variety of mature trees and gorgeous fairways.  Over 6,300 yards of play is available on 18 regulation holes.  Par on this course is 72, and play features a 122 slope rating:  slightly above-average difficulty, offering a relaxing and enjoyable day to all players.
Casual golf attire and soft-spikes are welcome on the course.  And if you've forgotten anything, there is a fully-stocked Pro Shop on the premises.  This authorized Calloway dealer also offers clothing, bags, golf balls, and hats from a number of recognizable companies.
The Club even takes care of your dining needs:  the Clubhouse Bar and Grille offers sustenance, fish fry Fridays, and occasional special events like wine tastings.  You can also arrange special events and occasions here, if you happen to be visiting during a birthday, anniversary, or other celebration!
Want to take a lesson during your Finger Lakes getaway?  PGA Apprentice Kyle Kressler offers 30-minute, 3-hole playing, and 9-hole playing lessons.  Learn the very basics, discover how to improve your swing, learn how to read the fairways and greens, or find out how to best play from sand…  Call the Pro Shop to schedule!
Now then… about the prices.  You may be surprised to find out just how reasonable it is to play here!  An entire weekend with cart available for $35!  Or schedule 9/18-holes of weekend play (walking) for $16/$24 per person!  Forget your clubs?  They can be rented for just $10…
Even better: Innkeeper Rose has worked with the Club Board to offer a 20% discount for 18 holes of play, available to those visiting from out-of-town!  That reduces the weekend walking rate to just $19.20 per adult:  a price you'll be hard-pressed to find at any other comparable course!
Of course, College Student (please bring student ID) and Senior discounts are available.
Please note that any if you're visiting with a group of more than four players, you must make arrangements with the Pro Shop attendant if you all want to play in a single group.  This is only allowed if your large group will not disrupt general play.
Why not plan a day (or part of a day) on the links during your Finger Lakes vacation at the Inn at Gothic Eves?  After a great breakfast here at the bed and breakfast, you can head on over to play, have a delicious lunch there on the premises, and you can even plan other activities in the afternoon.  And if you swing a little too hard during your game, you can enjoy some time in one of our Jacuzzi tubs in the evening!