Earlier this month, this blog covered all the great chocolatiers in the region between Cayuga and Seneca Lakes.  And by now you're probably aware of the reputation the Finger Lakes has for wine.  But what would you say about an opportunity to combine these two wonderfully decadent treats?  I would like to personally invite you to plan a visit to the Upstate New York area during the Seneca Lake Wine Association's Chocolate and Wine Weekend on February 8-9-10, 2013!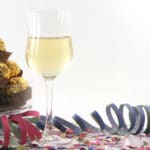 However decadent, there are also proven health benefits of including moderate amounts of both wine and chocolate in your diet.  Wine drinkers tend to live longer, have fewer health problems (including heart problems, cataracts, colon cancer, and diabetes), and have a slower decline of brain functions as they age.  Chocolate provides antioxidants that battle free radicals, is an anti-depressant, also provides multiple health benefits (including lower blood pressure, lower LDL cholesterol, fighting cancer, removing plaque from arteries), and also improves overall brain function.
The event, which is co-sponsored by Lindt, features more than 30 area wineries.  Each winery features a signature chocolate-themed dish which they pair with their delicious wines!  When you return home, you can still experience some of the event's magic through the annual recipe book available at the event website.  Tickets are $35, and are available at the website above.
16 wineries on the event trail are convenient to the Inn – when you purchase your tickets, you can actually select your starting point!  For your convenience, you may want to choose a winery on the east side of Seneca Lake and proceed from there.
Along with the above-mentioned health benefits of wine and chocolate, there are also health benefits of choosing a bed and breakfast over hotel lodging for the event:  the true relaxation of a warm and welcoming location, a much smaller crowd, serene surroundings, and a delicious breakfast to start each day of your stay.  Here at Gothic Eves, you also get the benefit of a small-town setting with friendly people, great amenities, and the true relaxation afforded by the hot tubs and spa services available to guests.  So make your reservations today for this unforgettable event in an unforgettable location!
————————————————–
To further tempt you, please enjoy one of the 32 recipes featured from the 2012 event:  Chocolate-filled Canolli with Wine Marinated Fruit, featured at nearby Wagner Vineyards:
1 1/2 cups dried fruit
1 cup Wagner Vignoles
1/2 cup granulated sugar
2 cups ricotta cheese
1/4 cup chocolate syrup
1 1/2 cups confectioners sugar
8 oz. cream cheese
1 cup whipped cream
3 5-inch Cannoli Shells
Wine Marinated Fruit:
Finely chop dried fruit (i.e. dried cranberries, blueberries, raisins, pineapple, etc). Place chopped fruit in a medium-sized saucepan with Wagner Vignoles and granulated sugar. Bring to a simmer and reduce heat until it becomes the consistency of syrup. Cool in refrigerator for 30 minutes.
Cannoli Filling:
In a mixer, combine ricotta cheese, confectioners sugar, cream cheese and chocolate syrup. Mix until all ingredients are well blended and smooth. Gently fold in whipped cream and half of chilled, marinated fruit. Refrigerate mixture for one hour.
Fill cannoli shells with mixture and garnish with remaining marinated fruit.
Suggested Wine Pairing:  Wagner Vineyards Vignoles or Wagner Vineyards Vignoles Ice