We not only did a little spring-cleaning at the Inn, we gave some of our rooms a whole new look! And we couldn't be happier with the results. Come pay us a visit and see for yourself how cozy and comfy these new spaces are.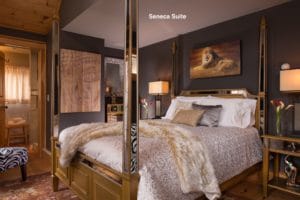 A soothing rain showerhead was added to the Seneca Suite, as well as new tile, evoking a restful safari sojourn. We continued the feeling with a new décor in the bedroom as well. Warm chocolate walls, animal-print linens and dramatic artwork make this a soothing environment. You may not want to leave!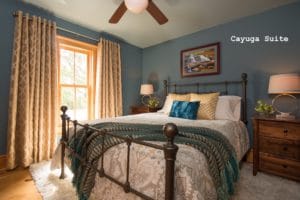 For the Cayuga Suite's refresh we looked no further than the beautiful waterfalls around Cayuga Lake. Stunning photos of the falls in different seasons, and serene blue walls seem to bring all the beauty of nature indoors, while large windows let you enjoy the lovely outdoor surroundings.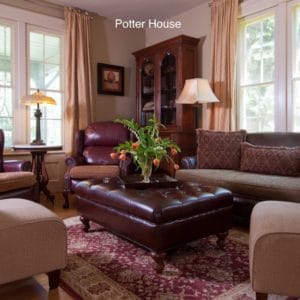 Not to be upstaged, the Potter House, just across the slate patio from the Inn, has undergone a bit of refurbishing too, making it an ideal setting for a family or friends, offering wonderful space for entertaining. The house has two generous-sized bedrooms, each with fireplaces, sitting rooms, wet bars and private baths. A special new touch throughout the Potter House is the striking art work created by Anna, the owner's daughter, and a recent graduate of the Massachusetts College of Art and Design.
A stay in any of our rooms provides the chance to pamper yourself with a soak in one of our private outdoor Jacuzzi tubs, or a visit to our on-site spa for a rejuvenating massage. And of course, every stay at the Inn includes our special breakfasts, featuring locally grown organic produce and herbs from our garden.
Summer is a wonderful time to visit this area. We'd love to have you for a stay!