If you are anything like the staff at the Inn at Gothic Eves, you love an ice cream sundae! So how perfect to come visit the city where it was born.
Though its lineage has been disputed, Ithaca has long claimed the ice cream sundae, and it all dates back to a Sunday in 1892, when the Reverend John M. Scott headed over to the local Platt & Colt Pharmacy for a little refreshment. After getting two bowls of vanilla ice cream from his fountain clerk, Chester C. Platt, the shop owner and church treasurer, doctored them up with cherry syrup and a candied cherry. Voila! The "Cherry Sunday" was born.
Over the years "Sunday" became "sundae" and the variations available seem almost endless. But one thing has never changed: our enduring love of eating it!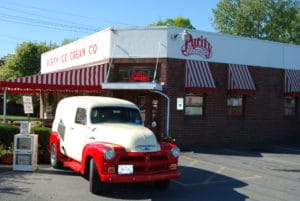 To get your ice cream fix while in Ithaca, head over to Purity Ice Cream Company. Known as "The Ice Cream of the Finger Lakes," Purity has been making small batch ice cream since 1935—and it's definitely got scrumptious down to a science. The company produces ice cream using a base that is made without corn syrup, and with only top-quality ingredients, such as dutched 22% fat Cocoa powder and pure vanilla. Though vanilla is still a top choice, it has plenty of competition from Mint Chocolate Chip, Bulldog Crunch, Chocolate Raspberry Truffle, Sea Salt Caramel. Customers can make their own sundaes, or choose from some of the shop's specialty combos. Apple Crisp Sundae tops vanilla ice cream with homemade warm apple crisp, caramel topping, whipped cream and a cherry. Mad Mint Sundae starts with a hot homemade brownie, then gets Madigan Mint ice cream, Oreos and hot fudge. Oh my!
Purity Ice Cream Company, Inc.
700 Cascadilla Street, Ithaca
607-272-1545
Hours: Monday – Thursday, 7:30 a.m. – 10:00 p.m.; Friday, 7:30 a.m. – 11:00 p.m.; Saturday, 9:00 a.m. – 11:00 p.m.; Sunday, 9:00 a.m. – 10:00 p.m.
For a taste of Purity Ice Cream's soft serve, visit Not My Dad's Ice Cream, a favorite hangout in Trumansburg since 1991.
Not My Dad's Ice Cream
203 East Main Street, Trumansburg
607-387-9656
Call ahead to check hours.
You'll find deliciously creative ice cream flavors at Sweet Melissa's Ice Cream Shop downtown. Black sesame is a favorite, and some of the newer scoops include Key Lime Pie and Strawberry Basil. The shop serves a luscious brownie sundae too (rich homemade brownie topped with ice cream and hot fudge sauce). Sweet Melissa's also makes Vegan ice creams that even non-vegans would enjoy, such as salted caramel, cinnamon, and thyme lime.
Sweet Melissa's Ice Cream Shop
200 W. Seneca St., Ithaca
607-277-0090
Hours: 1:00 p.m. – 9:00 p.m.
Ice cream is taken seriously over at Cornell University, where it's made in the school's very own dairy processing plant. (The school also produces milk, yogurt, pudding and Big Red Cheddar.) Pay a visit to the Dairy Bar, located in Stocking Hall, for a sample scoop or two of flavors such as Bavarian Raspberry Fudge, Ezra's Morning Cup, Caramel Cubed, and a specialty—CORNell ice cream. You can also purchase pints to go and create your own sundaes at home. The Dairy Bar takes orders for ice cream cupcakes and ice cream sandwiches too!
Dairy Bar Stocking Hall, Cornell University
Judd Falls Road, Ithaca
607-255-3272
Hours vary, so call ahead.
And for those heading out on the Cayuga Wine Trail, one must-stop is the Cayuga Lake Creamery.  Ingredients such as lavender, maple bacon and seneca salt caramel flavor its exceptional small batch ice creams. The Creamery also produces tasty wine sorbets. 
Cayuga Lake Creamery
8421 Route 89, Interlaken
607-532-9492
Spring and Fall hours: Sunday – Thursday, 11:00 a.m. – 7:00 p.m.; Friday – Saturday, 11:00 a.m. – 8;00 p.m.
Summer hours: Monday – Sunday, 11:00 a.m. – 10:00 p.m.
After all this sweet talk, you just might want to call the Inn at Gothic Eves right now to book your stay! We'll make sure to give you a great night's sleep and a savory breakfast before sending you off for a day of play and ice cream.