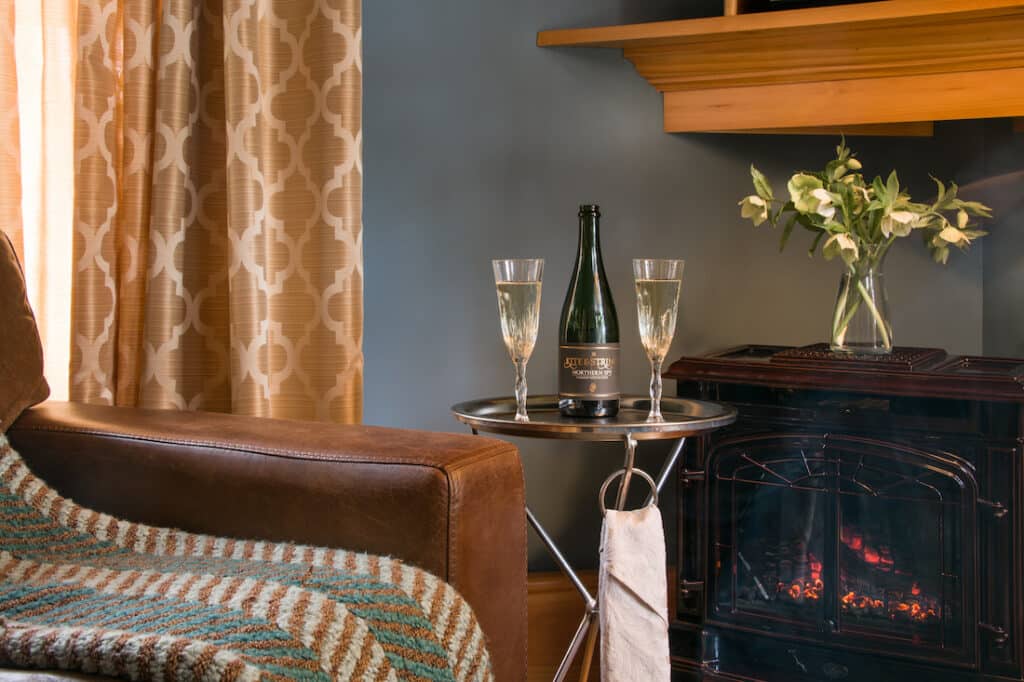 The Finger Lakes Region in Upstate NY is a charming getaway destination with a wonderful variety of things to do, especially for a couples retreat. Whether you're looking for days filled with relaxation and spa visits or adventures on the trails and the water—or maybe a combination of both—you'll find it all here at our Finger Lakes Bed and Breakfast. Our Inn in Trumansburg, NY, is located just minutes from the Cayuga and Seneca Lakes, blocks from one of the most stunning waterfalls in the area, near several incredible wineries, and so much more. 
For those who prefer to stay nearby, as a guest at our Finger Lakes Bed and Breakfast, you can take full advantage of our stunning garden grounds. Enjoy our spacious hammocks in the shade, soak in the backyard jacuzzi, sit by the fit pit in the evenings with a glass of wine and snacks, or lounge on the porch swing. Inside, our eight spacious guest suites are warm, welcoming, and elegantly appointed. Comfortable beds are dressed in high-thread count linens, and bathrooms feature luxury products, plush robes, and fluffy towels.
One of the best ways to enjoy a couples retreat at our Finger Lakes Bed and Breakfast is at the spa, so be sure to book an appointment or two! 
Each morning, our kitchen comes to life with aromas of baked goods and French press coffee. A complimentary breakfast service is included with your room rate, and we love to serve our guests' farm-fresh meals that are nourishing and wholesome but don't skimp on flavor or flair. Spring and summer are the perfect time to plan an escape from the city to reset and relax with your partner. Start planning your next couples retreat to Upstate NY and reserve your room at our Finger Lakes Bed and Breakfast today!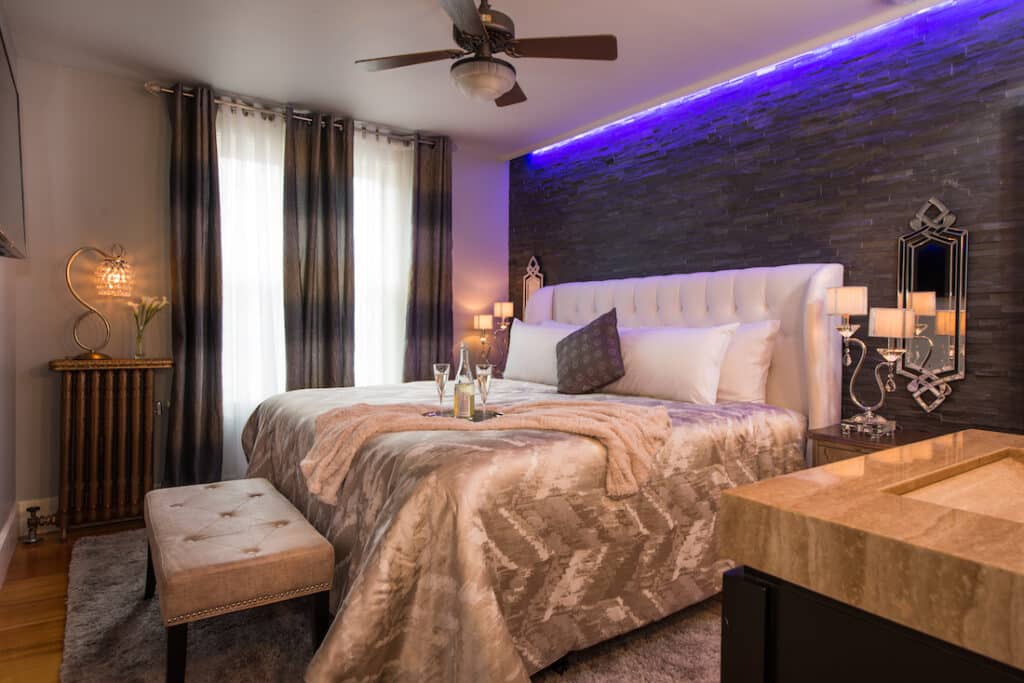 The Best Finger Lakes Bed and Breakfast for Couples Retreats
Our Finger Lakes Bed and Breakfast is perfect for a couples retreat for a weekend or mid-week getaway! As the city skyline disappears in the rearview, you'll feel as though you're miles away from the hustle and bustle. As a guest at our Inn, you can do as little or as much as you'd like. We're near the best activities, from hiking and wine tasting to elegant dining and waterfalls; you'll find plenty to do within a short car ride. 
Here's a snapshot of what a couples retreat would look like at our Finger Lakes Bed and Breakfast this spring or summer: 
Awake refreshed in one of our eight beautifully appointed and private guest suites. Each room has a King or Queen bed, luxurious pillowtop beds and linens, plush bathrobes, and Egyptian cotton towels. Choice rooms have private porches adjacent to your suites and so much more. And you'll have access to two private outdoor Jacuzzis (ask about a time slot at check-in). These outdoor tubs are perfect for a relaxing soak. 
Each morning, let us make you a delicious, made-from-scratch, gourmet breakfast during your stay. A hearty and healthy breakfast is the ideal way to start your day of adventure! It's our pleasure and is included in the cost of your stay. We source our ingredients locally and take immense pride in starting your day off on the best foot possible! On a daily basis, we often rush through this part of the day, but at our Finger Lakes Bed and Breakfast, we encourage our guests to sit back, take it all in, and enjoy as many refills of coffee as they like.
After breakfast, if you're choosing to stay in, there's no better place to destress than the Spa at Gothic Eves—one of the region's best Finger Lakes day spas. Book a couples massage or beauty treatment, time in our state-of-the-art infrared saunas, or a healing crystal therapy session. Pampering is one of the most important ways to reconnect and spark romance on your couples retreat. Check out our fantastic packages that combine services at our spa for guests staying at the Inn.
The beautiful garden grounds at our Finger Lakes Bed and Breakfast are perfect for a yoga session or meditation in nature. You'll find plenty of seating areas for relaxing in the sunshine. 
For those with an adventurous spirit who love to explore during their vacations, there are plenty of romantic and fun things to do in the Finger Lakes area. Our warm and welcoming staff and Innkeeper are more than happy to offer personalized recommendations and make reservations for you. Read on to discover our favorite things to do in the Finger Lakes near our B&B.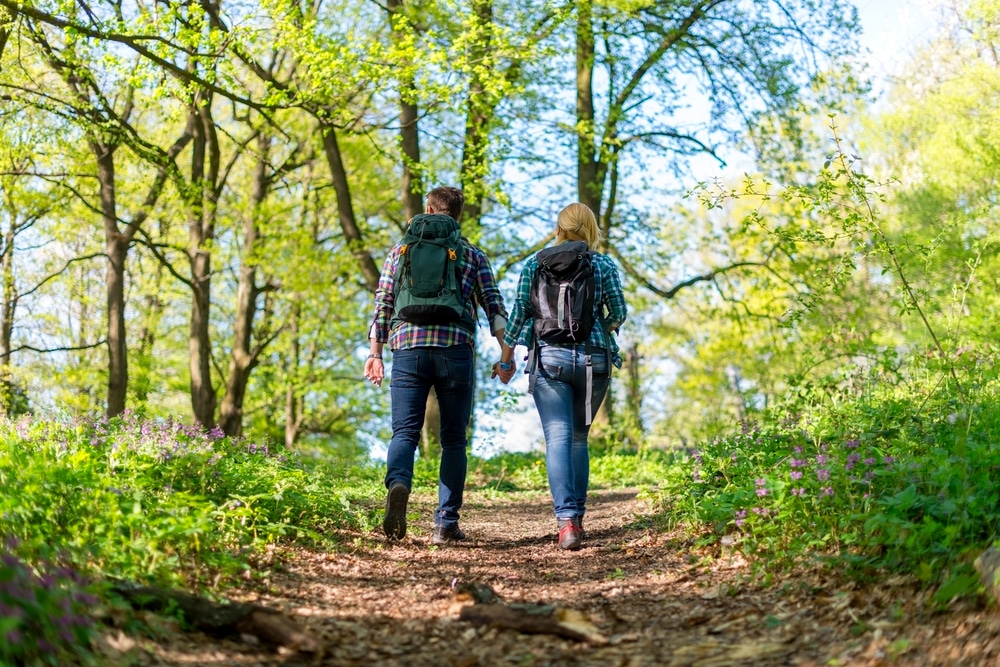 Romantic Things to Do in the Finger Lakes
We encourage our guests to take their couples retreat at their own speed, whether that means mainly relaxing at our Finger Lakes Bed and Breakfast or heading out to the charming downtown of Trumansburg, exploring the nearby state parks, making reservations at the local restaurants, or wine tasting excursions. It will all be at our fingertips, and you'll create magical memories as you go along. Here are a few of the most romantic things to do in the Finger Lakes this spring and summer: 
Our Finger Lakes Bed and Breakfast is just a quick jaunt from downtown Trumansburg, NY, where you'll find fun local shops, breweries, and cafes, all with a small-town sensibility. Be sure to check out the Farmers Market and lovely selection of boutiques for souvenirs, apparel, jewelry, and much more. 
You'll find some of our favorite Finger Lakes restaurants in Trumansberg. Many offer farm-to-table dinners, don't miss the critically acclaimed Hazelnut Kitchen for a romantic date night. For casual lunch fare, head to Main Street Market or NY Pizzeria for thin-crust delights. We're also only about 20 minutes from Ithaca, NY, if you're looking for more dining out or shopping selections.
Spring is the perfect season to plan your weekend getaways in Upstate NY, especially for those who love the outdoors as much as we do. Our gardens are starting to bloom, and that sense of new beginnings is in the air. We're located less than five minutes from Taughannock Falls State Park, home to one of the most beautiful waterfalls in New York. Luckily for avid hikers, we're only 15 minutes from the Finger Lakes National Forest.
For waterfall lovers, you can't miss Watkins Glen State Park, about 30 minutes from our Finger Lakes Bed and Breakfast—meander along the trails that weave under and over 19 beautiful falls. Robert Treman State Park is also known for its impressive cascading falls, only 20 minutes from Inn at Gothic Eves. 
Wine tasting is always a welcome addition to any couples retreats in Upstate NY. Our Finger Lakes Bed and Breakfast is centrally located between the Cayuga and Seneca Lakes wine trails, and many local companies offer Finger Lakes winery tours, too. On your stay here, you'll also be within about 15 minutes drive from more than ten local wineries; as always, bring a bottle back to enjoy by the fire. A few of our favorite wineries include Red Newt Cellars, Fox Run Vineyards, Lamoreaux Landing, Wagner Vineyards,  Sheldrake Point Winery, and Shalestone Vineyards.
This is just a handful of wonderful things couples can do in the Finger Lakes. You'll quickly see why our guests return year after year for special occasions, anniversaries, and trips to reconnect and make memories together. Late spring and early summer are very popular times to visit the area, so it's always best to plan accordingly. Find out more about the experience at our Inn on our social media channels: Facebook & Instagram. Our Finger Lakes Bed and Breakfast is waiting; reserve your room today!