By now you know about our local wine, beer, coffee, and organic food here in Upstate New York.  But have you heard about our chocolate?  A large part of the human population have a certain weakness for this delicious, serotonin-boosting treat.  And it just so happens that amazing things are happening in the world of chocolate right here in the Finger Lakes region!  What better treat/memento/present can you get during your bed and breakfast getaway than chocolate?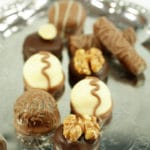 For at least as long as there has been recorded time, there has been chocolate.  The ancient Egyptians, the Aztecs, and the Mayans were all chocolate-lovers, to the point that it was integrated into some of their most sacred rituals.  Man has been trying to perfect the presentation of chocolate ever since.  While Cadbury and Hershey have made chocolate a common commodity to all; although some would consider such creations mediocre, at best, and strive to bring this unique food to its perfect form.
In and around Trumansburg, there are a number of businesses doing just that.  Without further ado, we would like to introduce you to the four nearest places to have an unforgettable chocolate experience!
Life's So Sweet:  just 1/2 mile west of our historic inn at 27 West Main Street
Building on over 20 years of experience, Life's So Sweet hand-crafts amazing chocolates.  Their philosophy of natural ingredients, true confectioners practices, Eco-friendly standards, and sharing the art makes this business one-in-a-million.  They offer tours, and will work with customers to create the perfect gifts and favors.  Besides amazing traditional chocolates, they offer gluten-free, vegan, and peanut-free options.  They also have a location at 116 West Green Street in Ithaca, if you happen to plan a day-trip there.
Lucienne's: just 3 miles southeast of the B and B at 1889 Trumansburg Road
True artisan chocolate bars made specifically from Ecuadorian beans.  16 variates available, including both a soy-free, and a dairy-free rice milk offering, as well as biscotti and cookies.  Lucienne's bars are also hold here in Trumansburg at the Good to Go! Market, and a variety of shops in Ithaca.
Rue Claire Lavender Farm & Artisan Chocolate:  15 miles west of Trumansburg at 9403 SR 414 in Lodi
Using organic milk, french chocolate, and occasionally the lavender that the farm is known for, this small artisan shop produces delicious truffles that will have your eyes rolling in pure joy.  Boasting an organic philosophy, the chocolates here are made with love and the perfection from the owners' training from a Le Cordon Bleu Master Chocolatier.
Whisper Chocolate:  34 miles from the inn at 444 Exchange Street, Geneva
This family business creates small-batch chocolates from European and fair trade chocolate, and local ingredients to assure freshness and seasonal perfection.  Featuring Chocolate barks, a variety of truffles, and dipped confections, you are sure to find something to tempt your taste buds!
Chocolate IS the perfect gift for any occasion, whether it be birthdays, anniversaries, celebrations, or holidays.  And when your vacation includes first-class bed and breakfast lodging here in Trumansburg, know that you are only a very short trip away from some amazing cocoa-based confections.  Your welcoming room awaits, and the chocolate will be what makes your visit even more memorable!