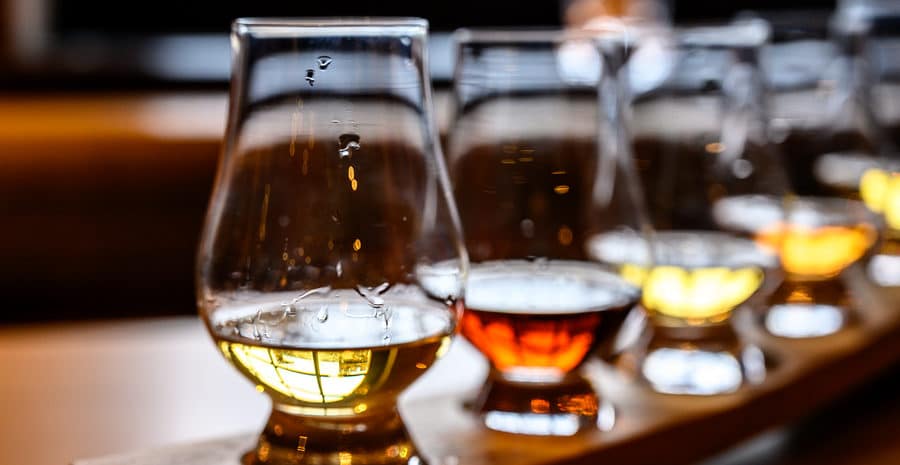 The Finger Lakes is a very well-known and much-beloved wine region, but it's also a great place for other delicious craft beverages. Aside from wineries and the world-class Rieslings produced here, there are a number of other craft beverages in the area, including a number of breweries and a Finger Lakes Distillery. So now, when you visit this scenic region in upstate New York, you don't have to limit yourself to just wine. Instead, you can enjoy a range of delicious craft beverages, and go home with plenty of new knowledge and appreciation for the work that goes into creating these delicious beverages.
While you're up here exploring this beautiful region, take time to slow down and appreciate the finer points of life at our luxurious Finger Lakes Bed and Breakfast and Spa. With well-appointed and comfortable guest rooms, scrumptious breakfasts each morning of your stay, and hospitality that can't be beaten, there's little doubt that our Inn is one of the best places to stay in the area.  Book your getaway today!
Tour the Finger Lakes Distillery
The Finger Lakes region is home to one amazing distillery. Finger Lakes Distilling is a craft distillery located on the eastern shore of Seneca Lake, and is fairly near our Bed and Breakfast. Using only the finest locally-sourced raw ingredients, this finger lakes distillery makes some delicious spirits, and they do it all using traditional copper stills and methods. They produce an incredible range of products, which include aged sipping whiskeys, including McKenzie Whiskey, regular and flavored vodkas, a variety of gins, including their boxed and party-ready gin, liqueurs, and so much more.
The Finger Lakes Distillery is open daily to visitors. For just $5, you can enjoy a tasting of up to 4 of their amazing products. You can even sample some of the mixers and try one of their handcrafted cocktails if you so choose. There's so much to try on their tasting menu, that you may need to come back more than once. Beyond just stopping in the distillery for a tasting, they also host a range of workshops and events, including the upcoming Bloody Mary Bar in March.
The Finger Lakes Distillery also offers tours every Saturday starting at the end of May and running through November. These guided tours will take you behind the scenes to the production floor, barrelhouse and bottling operations, and is followed by a private tasting of 4 spirits of your choice with our owner or head distiller.

Looking for Great Cocktails in the Finger Lakes?
While the Finger Lakes Distillery produces the ingredients for great cocktails, where else can you enjoy delicious cocktails in the Finger Lakes Region? It just so happens that we have a well-curated list of some of the best cocktails near our Finger Lakes Bed and Breakfast. Here are a few of our favorites:
We love to send guests to Viva Taqueria in Ithaca, which has an extensive menu of Margaritas. In particular, we recommend Mikey's, which features Cointreau, Grand Manier, and Patron.  Another great one is the Smokey Joint with Mezcal tequila, or the Purist, which has nothing but pure lime juice in it. Make sure you let us know which one of these is your favorite!
Atlas Bowl in Trumansburg is not just a great place to have some fun. It also has great cocktails.  And, to make your evening better, they often feature live music and other live entertainment as well.
If you're a fan of Bloody Mary's, then you need to head to Maxies Supper Club. Their bloody mary features delicious pickled vegies and a steamed shrimp for garnish, and it's very Spicy!  This venue also has live music on Tuesday nights.

The Best Finger Lakes Bed and Breakfast
Whatever it is you're drinking, the Finger Lakes is all about tours and tastings. But at the end of the day, you'll be ready for somewhere relaxing to rest your head. Choose to stay at our luxury Bed and Breakfast, and you won't be disappointed. We're conveniently located in the town of Trumansburg, in between Cayuga and Seneca Lakes, and we offer eight spacious, luxuriously-appointed guest rooms, some with fireplaces, a host of amenities, and world-class service. Each morning of your stay will feature a delicious breakfast, made with locally grown and organic ingredients. Much of our produce is sourced from a nearby cooperative farm, as well as several other local farms where we pick our own produce.
Don't forget to schedule a service or two at our Finger Lakes Spa while you're here, or at the very least reserve your soaking time in our relaxing outdoor hot tubs or our sauna. A visit to our Finger Lakes Bed and Breakfast is an experience like no other. Book your room, and come explore this exciting region with us today!