4676 NY-414, Burdett, NY 14818
607-546-5510
Open Daily 11-5
Products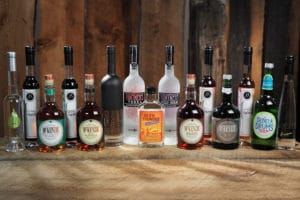 Straight Rye
Straight Bourbon
Pot Still Whiskey
Seneca Drums Gin
Vintner's Vodka
Riesling Grappa
The Story of Finger Lakes Distilling
Finger Lakes Distilling has been in operation since 2009. They are located in Burdett (17 miles west of the inn) on the east side of Seneca Lake and are open daily 11-5. Like many small businesses in the Finger Lakes region, Finger Lakes Distilling, led by founder and owner Brian McKenzie, takes pride in being a part of our community by sourcing locally. They are a NYS Farm Distillery, which means they source at least 75 percent of their ingredients from New York. Using local grain gives the distillery ultimate control over the entire production process with no guesses to the quality.
While the distillery use local ingredients McKenzie and his team have their eyes set for wider recognition. They have been looking to the past with the development of Empire Rye whiskey in collaboration with 5 other New York distilleries, as well as their new Bottled-in-Bond Wheated Bourbon.
They are always coming up with new ideas and events at Finger Lakes Distilling! They will soon be launching their McKenzie Tippling House to expand their cocktails and food offerings. 
Empire Rye
Empire Rye is a new style of whiskey created by Finger Lakes Distilling and five other New York distilleries with the idea to hark back to New York's pre-Prohibition rye whiskey-making legacy but bring it to present day. Why should Kentucky get all the credit? It is a way to give New York State a unique take on whiskey. Their goal is to make New York rye whiskey commonplace and a formidable competitor around the globe.
Bottled-in-Bond
The Bottled-in-Bond bourbon is an achievement and a way to demonstrate their skills due to the requirements set for a spirit to be bonded. It must be the product of one distillation season by one distiller at a single distillery. It must be aged for a minimum of four years and bottled at 100 proof (or 50% alcohol by volume).
In addition to whiskey, Finger Lakes Distilling produces gin, vodka, brandy and grappa, and liqueurs.
Brandy is on its Way Back
Folks who already have a taste for craft beer and whiskey are craving something new. The New York Times wrote about the brandy trend a few years ago, including Finger Lakes Distilling as one of the American distillers expanding into brandy production when the whiskey market has become crowded. American brandy was known to be very sweet and less restricted than its expensive French cousin Cognac. Many cocktail recipes call for brandy and the new generation of brandies are less sweet and more inexpensive – a perfect balance! Finger Lakes Distilling produces their brandy with local fruit resulting in pear, apple and grape brandies.
Events
Bloody Mary Bar Sundays in March…yummy! All March long stop by to try their delicious Bloody Marys featuring their Glen Thunder Corn Whiskey.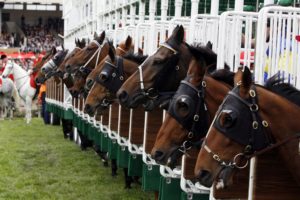 The distillery hosts an annual Kentucky Derby party in May to join in on the racing fun from afar with a viewing party, live music, cocktails and BBQ.
They also offer a great experience perfect for a group of friends or family to create your own gin! Called the OriGINal Gin Workshop. Bring a group of 1-14 people to the distillery where you create your own blend of gin, distill it, and receive 40 bottles (375 mL). A unique Finger Lakes Experience.


Their Summer Kick-Off Party is a new event this year! Taking place on June 27 and featuring live music by The Town Pants with signature cocktails and food! 
Stay at our Finger Lakes Bed & Breakfast…
We are 15 miles from Finger Lakes Distilling. Take the scenic drive to Seneca Lake and enjoy the numerous other wineries and breweries on the trail. Stay in our 8 guest room inn with private baths in each room, a full breakfast served every morning with fresh, local ingredients. Take advantage of the spa specials we run all year long. We serve breakfast on Sundays but head to the Distillery for a Bloody Mary after! 
Sources:
https://www.esquire.com/food-drink/drinks/a54739/best-whiskey-distilleries-in-america/
https://www.bevnet.com/news/spirits/2018/finger-lakes-distilling-releases-new-whiskey/
https://www.themanual.com/food-and-drink/empire-rye-whiskey-association-designaton-new-york-state/
https://fingerlakesdistilling.com/story/who-we-are/
https://www.empirerye.com/history