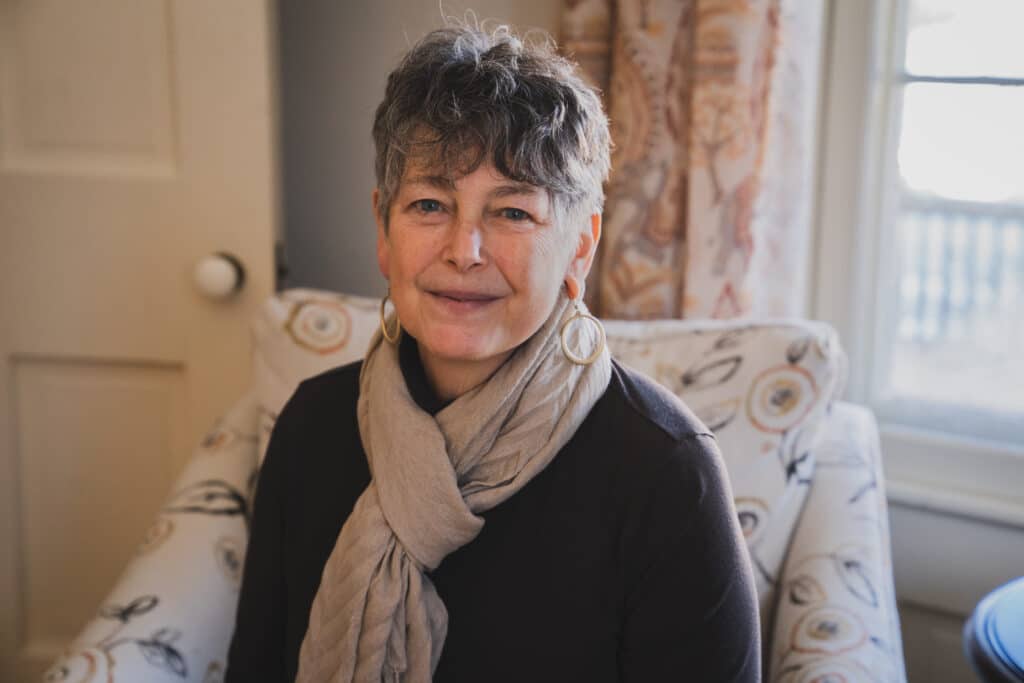 If you have stayed with us at Gothic Eves, explored our socials, or heard of a friend or family member's trip to the inn, you're probably familiar with our mighty owner and innkeeper, Rose Hilbert.
In honor of Women's History Month and a pivotal moment in the inn's journey, we wanted to spotlight Rose and introduce (or reintroduce) her to all of our past, present, and future guests. Read on to learn more about the inn's history, Rose's path to becoming innkeeper, and exciting things to come for the inn's offerings  
1. When did you purchase the inn?
When I purchased the Inn in 1994, it was just one house with only four rooms. It was a bed and breakfast at that time. The first guests that stayed in the house originally were in 1928. It was a tourist home then and was owned by Herman Smith and his wife. Herman was a dentist, and the Smiths lived in this main house and kept it as a place for guests for three generations. Dori Norris started the Sage Cottage B&B in 1982 and was very successful, but one of her guests sweet-talked her into marrying him, and she sold it to me. Our first guests arrived on March 31, 1995. After five years, the second house was purchased and renovated from top to bottom. The Inn at Gothic Eves was established in 2006 with two houses and eight rooms. The spa came later in 2017.
2. What did you do before becoming owner and innkeeper of Gothic Eves?
The last job before I became an innkeeper I worked as a program analyst at the NIH in Bethesda, Maryland. I was hired when I graduated from the University of Maryland with an MS in Plant genetics. The employees who worked there did not have the latest advanced knowledge of molecular genetics. As a result, I was able to help the office categorize and write narratives about current research using my recent studies. These reports were provided to special interests groups, advocates, politicians, and staffers to support funding for future research.
3. Was hospitality something you always had a knack for? 
People say I have a knack for it—I say I've always enjoyed eating, which required me to learn how to cook. I traveled a lot before becoming an innkeeper at age 34. I was exposed to lots of different methods and ingredients. I was completely motivated to learn how to develop flavors. When my friends came to dinner, I found entertaining as enjoyable as cooking.
4. What was it like raising your daughters at the inn? 
It was an overwhelming lifestyle. I never knew how my guests would react to anything.  Would they enjoy my children's behavior and sounds, or would they consider it a disturbance and ask for their money back. Both kinds of guests came. I had to learn to let it go and not allow it to get to me. Many guests treated them like their own grandchildren and watched them grow up throughout the years. I never regretted the decision to be an innkeeper because my girls learned to be hard-working, independent, and successful young women. I am so proud of them and the choices I made to be present as a parent.
5. What is your favorite part about running the inn? 
The guests' stories have so much wisdom and surprising endings. I never get tired of hearing them. I am reminded of how much we are all alike—doing our best, making mistakes, wanting to be loved.
6. In three words, how would you describe a stay at the inn? 
Luxurious, welcoming, and experiential.
7. As a well-traveled woman, what makes the Finger Lakes such a unique and wonderful place to visit? 
The natural beauty and abundance are what make the Finger Lakes unique. Waterfalls, beautiful sunrises, sunsets, deep lakes, fertile land, large freshwater supply, organic farms, music, and art.
8. What are some of your favorite locations around the Finger Lakes?  
Restaurants in Trumansburg, Atlas Bowl, Hazelnut Kitchen, and Main Street Market. Hiking, wine tasting, swimming in the deep lakes, trying all the new food places that pop up all the time.
9. When you're not running the inn, what are some of your hobbies? 
I love diving in the warm tropical waters and exploring coral reefs and the deep blue sea. On land, I am training for endurance horseback riding, my newest sport. Though I never get tired of hiking any trail, I can find. And currently, I am practicing and working towards becoming an Eden Energy Medicine practitioner.
10. What drew you to energy medicine?  
A few years ago, I was introduced to it and hired two therapists who started to offer it at the Inn most mornings on the lawn. Over just a couple of months, I found a renewed energy. This modality is designed to balance your energies that were altered through life experiences that cause distress and trauma.
11. Will this new passion (EEM) be integrated into the inn's offerings in some ways?   
Yes, I will be certified after two years of classes and many practice sessions. My intention is to offer sessions at the Spa. Some of the work can be learned by everyone and practiced daily. These energy routines empower each of us to take care of our own energies. I want to teach the routine in the morning outside as soon as the weather breaks. I also want to offer individual sessions at the spa where I can address deeper energy imbalances.
12. What can guests expect from an EEM session?   
A session usually starts with testing your energies to see what meridians show weaknesses. As meridians are strengthened, the body will continue to show deeper imbalances. Many clients leave the table feeling overwhelmed with a deep sense of peace and calm.
13. What do you want guests to know before they arrive for their stay?   
I want my guests to know that we work very hard to present the very best for their stay.  We take great pride in ensuring our guest experience. It is all chosen with you in mind—from choosing flowers for the garden to our selected linens and our hand-picked fruits and vegetables.
The history of our inn is rich and wonderful, and the magical energy that encapsulates it today can all be attributed to Rose. Want to enjoy the Gothic Eves experience for yourself and chat with Rose about gardening, traveling, energy medicine, and everything in between? Explore our guest suites and packages and make your reservation today!