A holiday gift or an anytime gift, gift certificates are awesome, especially one for the Inn and Spa at Gothic Eves!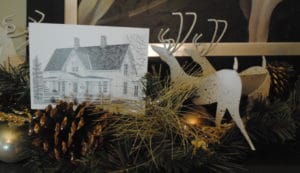 Gift certificates can be used at both the inn and/or spa to give someone a unique experience. There are so many ways to express your love and affection for someone that it can be difficult to choose the best thing. Jewelry, flowers, clothes, etc. But you can only have so much stuff. What can you give the person who has everything? How about an escape from all the stuff? Invite someone to take time for themselves, either on their own or to share with someone else, at Gothic Eves.
We are located in Trumansburg, NY in the heart of the Finger Lakes region of Upstate/Central New York. We are perfectly situated between Cayuga and Seneca Lakes and just down the road from Taughannock Falls State Park. Visit the 100+ wineries, cideries and breweries of the Finger Lakes, going hiking and swimming, and relax at our spa.
The Inn at Gothic Eves
Our inn encompasses eight spacious, luxuriously-appointed guest rooms with cathedral ceilings and feature comfortable beds with high thread count linens, flat screen televisions with Rokus featuring Netflix and Hulu Live accounts for your use, and expansive custom-designed showers. Many bathrooms have floor heating in the tile.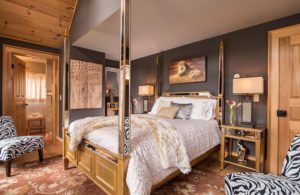 Guests of the Seneca Suite, Cayuga Suite, or Chardonnay Suite are welcome to cozy up in front of their warm fireplaces. Or enjoy a long soak in the Jacuzzi tub in the Pinot Suite. For ultimate relaxation, treat yourself to some of our first-rate spa services.
Enjoy our delicious breakfasts every morning with local, fresh ingredients from our garden and farms in the area, served with locally roasted Gimme! Coffee. A refreshing way to wake up!
The Spa at Gothic Eves
We offer full body 75- and 90- minute massages for individuals and couples in our 2 treatment spa. Enjoy a soak in our outdoor hot tub or far-infrared sauna before your massage.
If you're looking for something deeper consider a hot stone or deep tissue massage or reorient your mind and body with some energy medicine. Take advantage of our spa packages to receive free or discounted rates on spa treatments when you stay at the inn.
How to Order Your Gift Certificate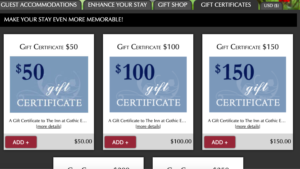 You can order a gift certificate over the phone (607-387-6033) or online through our booking system.  On the inn's website go to the "Availability" tab and select "Gift Certificates" and follow the directions. On the spa's website go to the "About" tab and select "Gift Certificates" and follow the directions.
The certificates come in $50 increments. You have the option to have the GC emailed to yourself, emailed to the recipient, or we can mail a physical card to them as well. Choose which method you prefer.
Alternatively, you may pay for a specific service for someone: a stay at the inn, or spa treatments – or both! You know what they need and want them to have it. We will take a deposit when you book the service and you'll pay the rest when the recipient comes for their treatment.
Once You Receive a GC
If you receive a gift certificate call us with the GC# and the person who gifted it to you and we will credit your reservation. Or make sure to incorporate it into your payment method when you check out. It's super easy to do. If you have any questions about our property or what you can do in the Finger Lakes ask Rose or Olivia. They are so happy to help you enjoy your break in the Finger Lakes!
Gift certificates expire 5 years after they are given so make sure to use them up!