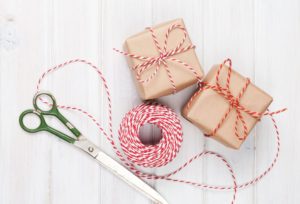 Shop Local! Whether you get a thrill from carefully picking a gift for each special person in your life, or are filled with anxiety over
the prospect, here is a list of some of our favorite places to find something unique. Everything can be found online but there's a certain charm about finding something organically in a store. We love small businesses who care about their customers and the products they sell. Support small whenever you can!
Shop Local in Trumansburg
We love our local shops in Trumansburg. Filled with delicious goodies and timeless treasures, there's something for everyone!
A mix of goods featuring some local artists, and fun things such as cooking accessories, clothing, jewelry, greeting cards, journals, women's clothing, purses, and more! Located in Trumansburg just down the street from the Inn at Gothic Eves.
Mark Oros and his team cut the most spectacular gemstones at his lapidary studio in Trumansburg. A very unique gift. Contact directly for what is available and pricing.
Pick up some yarn for your next knitting project and give some to a friend. Those who knit together stay together! Homespun has everything you need to create a masterpiece including an array of knitting needles, patterns and support. Drop in anytime with questions. If sewing is more your speed, choose your fabrics here to get started.
Our newest eatery in Tburg! Get yourself some grub and pick up some gifts for your friends back home. Food + beverage make great gifts to share. With Wide Awake Bakery bread, local cheese, and hard cider from Redbyrd Cider you cannot go wrong!
Say the beer is a gift but we know the truth! Pack your cooler when you come and take home 4 or 6 packs with all of the same or mix and match. Or take a crowler for your picnic!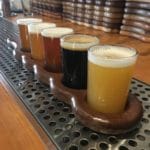 Shop Local In Ithaca
Visit the Ithaca Downtown Commons and peruse the shops down there. Tell us which are your favorites and maybe we'll add to this list!
Ithaca's Artisan Cooperative. Owned and operated by the local artists whose work is offered in the store, including jewellery, woodwork, pottery, fiber art and more! Can't get more local than this.
Calling all paper fans – notecards, wedding invitations, decorative paper, games, local artwork and more can be found at this sweet shop.
You can't forget the little ones in your life! Get all your children's' toys, books, and games here.
Another amazing community-owned business! Say shop local with books. Pick up books for all ages in a variety of genres. You'll find many of your usual favorites and new books. Also look for their Local Authors section with books written by Finger Lakes people! Located in the Dewitt Mall a block from the Commons.
Also located in the Dewitt Mall. Featuring soaps, candles, locally printed clothes and photography from the Finger Lakes and Ithaca Area artists.
Offering general outdoor equipment and backpacking equipment, as well as a bike shop.
When you visit all these fabulous stores you'll need a place to stay and keep your treasures. Lap up the luxury at our 8-guest room inn and spa. All rooms come with a king or queen size bed fitted with foam mattress toppers and new mattresses, high thread count sheets and comfy comforters. Each room has a private bathroom, many outfitted with heated tile and all with custom-designed tile showers. Wake up with Gimme! Coffee at the dining room table where we'll feed you a full breakfast featuring local ingredients to start your day right! Relax in our spa with massage and a hot tub soak.