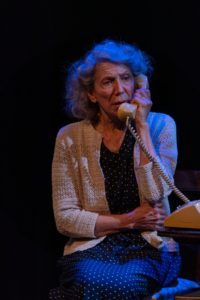 The Piano Teacher by Julia Cho is a concise play centered around the experience of a suburban piano teacher, Mrs. K as she struggles with being a widow and no longer being a teacher. Her comfort and livelihood are now gone.
I think the playwright did a phenomenal job of creating a character with such depth and heart, and Beth Dixon did a great job of bringing the character of Mrs. K alive and off the page. A really beautiful performance.
The themes that are raised through the play are very poignant and raw, such as loneliness, absence, longing, forgetfulness, and anger. They feel very real in Mrs. K's descriptions of her life and you understand the difficulties she is facing at this stage in her life.
Mrs. K has reached that place in life people look forward to as an accomplishment: old age.  But having made it to this destination with only minor bumps along the way she is unsure what to do now. The play explores the question: You are constantly working toward your future but what will you do if you reach it and it's not what you wanted?
As a young girl Mrs. K was gifted at the piano but as she grew up her skills never materialized into fame or recognition, something she longed for and was disappointed in her lack of. She was never the piano teacher but a piano teacher.
Even so, every story can be important and have value, Mrs. K proves that by telling her story. I think she should be doing it in therapy but maybe telling it to an audience is her therapy. Mrs. K begins the story as a lonely widow, made more lonely by no longer teaching, sharing her memories and through the course of the story, by reconnecting with former students, she discovers her memories weren't as reliable and concrete as she believed. So what is she left with?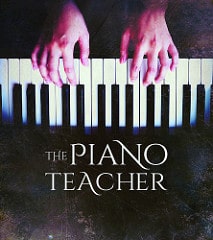 Visit The Piano Teacher for a lesson in sharing stories at the Kitchen Theatre, performing through November 4, 2018.