From it's I.M. Pei-designed exterior to its incredible collection of more than 35,000 works, the Herbert F. Johnson Museum of Art isn't just a highlight in the Ithaca area, but a national jewel as well. The Museum, named for its benefactor and Cornell graduate, opened in 1973.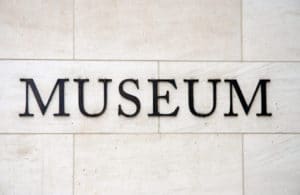 Renovations and reinstallations followed between 2010 and 2014, making the Museum even more extensive. Today, our guests at the Inn at Gothic Eves can enjoy collections that span six millennia and feature most world cultures.
Five floors in the main building hold the bulk of the Museum's collections, which include European and American works; Asian art; more than 22,000 prints, drawings and photographs; modern art and sculpture; African sculpture and textiles; and Columbian sculpture and ceramics.
Special exhibits are always a highlight and the Museum has several stellar ones on display throughout Spring, including:
"This is No Less Curious": Journeys Through the Collection. A study of the ever-changing elements and functions of a teaching museum.
Through June 7, 2015
Staged, Performed, Manipulated. Vintage and specially-made prints by photographers, mostly from 1990 to early 2010's.
Through June 7, 2015
Cast and Present: Representing Antiquity in the Museum and the Academy. An exhibition that returns to the University's roots of teaching from objects.
Through July 19, 2015
An Eye for Detail: Dutch Painting from the Leiden Collection. A show of 17th-century Dutch paintings.
Through June 21, 2015
Leo Villareal: Cosmos. An on-going exhibit, visible day and night, in which 12,000 LED lights transform the ceiling of the Mallin Sculpture Court.
The Herbert. F. Johnson Museum of Art at Cornell University
114 Central Avenue, Ithaca
Tuesdays – Saturdays, 10:00 a.m. – 5:00 p.m. Closed Mondays
Open Thursdays until 8:00 p.m. through April 30, 2015
Admission is free
607-255-6464
Also worth a visit is the Museum's exquisite Morgan Garden designed in Japan's dry-landscape style using stones, water and moss to create a soothing environment.
The Inn at Gothic Eves makes a great base for visitors to Ithaca and the Museum. You can start your day with a wonderful breakfast, and return home after sightseeing to a relaxing country setting. Why not plan a getaway soon?