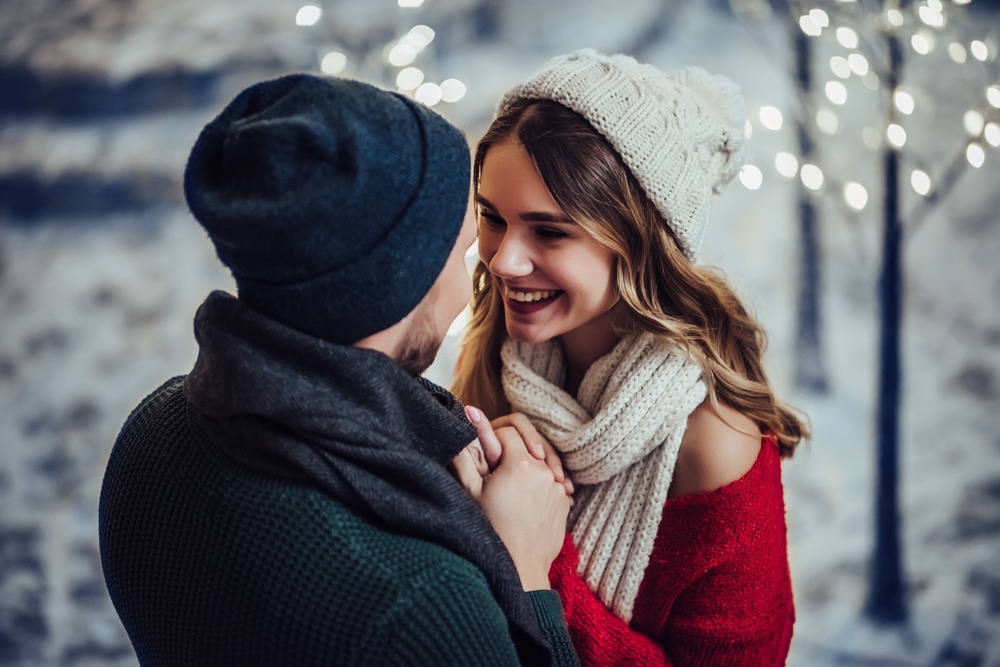 One of the best New Years' resolutions to make for couples is to travel more! Thankfully, our Finger Lakes Bed and Breakfast is the ideal place for a romantic getaway in upstate New York. Nestled between the Cayuga and Seneca Lakes, the charming village of Trumansburg is the perfect backdrop for a mini-vacation away from the big city. Our Inn is one of the best places to stay to nourish, rekindle, or discover a loving relationship.
As a guest at our Finger Lakes Bed and Breakfast, you can take full advantage of our stunning garden grounds. Spend your evenings soaking in the backyard jacuzzi, around the roaring fit pit with lively conversations, or lounging on the porch swing. Inside, our eight spacious and elegantly appointed guest suites are warm and welcoming. Comfortable beds feature high thread count linens and bathrooms luxury products and fluffy towels.
Start planning your next romantic getaway in the New Year at our Finger Lake Bed and Breakfast, the Inn at Gothic Eves. Your first visit won't be your last. Book one of our beautiful guest suites today!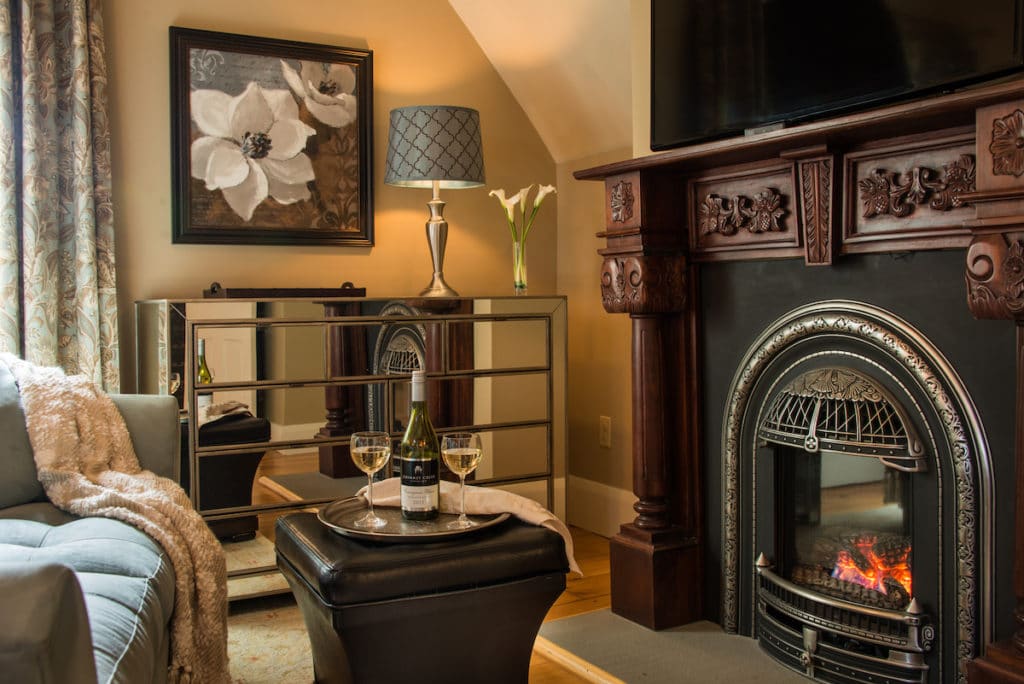 Romantic Adventures Near our Finger Lakes Bed and Breakfast
Our Finger Lakes Bed and Breakfast location is central to many of the most romantic outings in the area. Whether you prefer a relaxing day wine tasting and dining out or working up a sweat on a hike searching for waterfalls, we have it all. Most of our guests do a little bit of everything during their stay, but for everyone, we suggest at least one visit to our onsite Finger Lakes spa.
Here are the six most romantic things to do near our Finger Lakes Bed and Breakfast:
Finger Lakes Wineries: One of the more popular activities in our area is heading out to the Cayuga or Seneca Lake wine trails. These lakefront wineries offer stunning views, locally grown wines, and tours of the vineyards. You'll find some interesting cold weather varietals, not common in other parts of the country, sure to impress the wine enthusiasts in your life.
Taughannock Falls State Park: This astounding state park along the edge of Cayuga Lake is only a matter of minutes from our Finger Lakes Bed and Breakfast, and it's home to one of the most spectacular waterfalls. Neary 400 foot high towering cliffs part in the center for a 215-foot rushing stream of water dropping to the gorge below. It's a sight to behold year-round.
Dinner for two at Hazelnut Kitchen: We're lucky enough to have one of the best restaurants in the region, right here in Trumansburg, and only about one minute up the road from our Finger Lakes Bed and Breakfast. Hazelnut Kitchen has a casual elegance that's ideal for date night. Ingredients are locally sourced, and the creative menus showcase rustic American fare. Be sure to save room for something sweet!
Shopping on Main Street in Trumansburg: Stroll down to the small but charming village of Trumansburg and check out the local boutiques, book stores, and antique shops. Grab a coffee and a treat from the Trumansburg Main Street Market to enjoy while you shop local.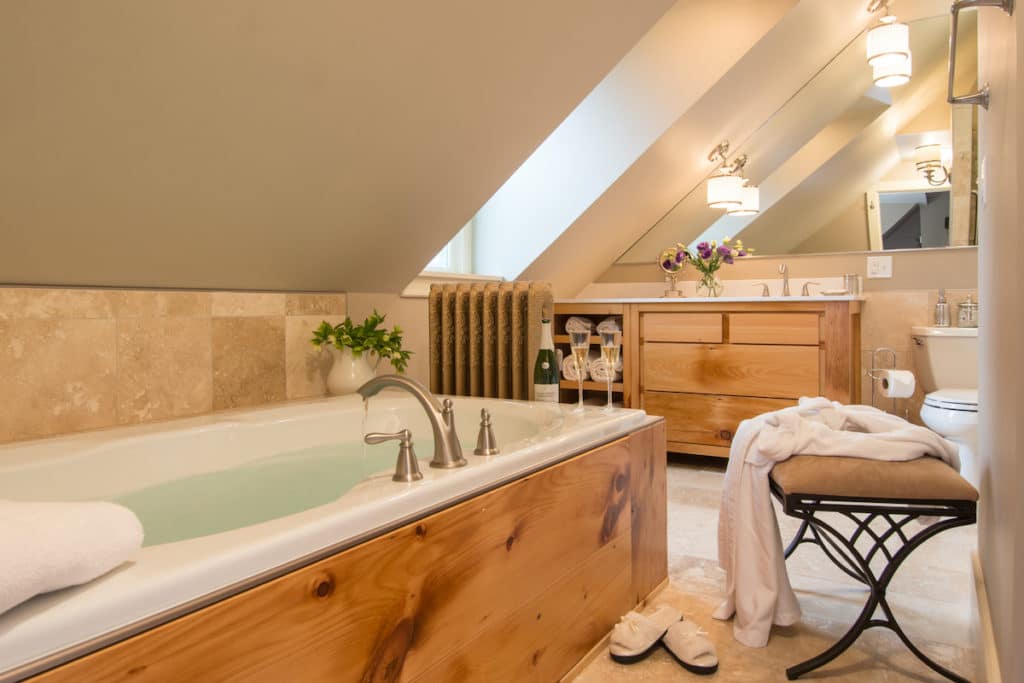 Book a Spa Treatment at our Finger Lakes Spa: If you're on the search for complete calm and serenity, you will want to check out the Spa at Gothic Eves. We offer many massage treatments (couples massage too!), a state-of-the-art infrared sauna, and reiki energy work. Head to the outdoor jacuzzi after your treatment for the perfect finish to a relaxing day.
Have a private night in your Suite: There's nothing wrong with taking a whole night off and staying in your guest suite, especially on a romantic getaway! Order in, share a bottle of wine, cozy up by the fire, and relax together. Each morning, be sure to join us for a complimentary breakfast—homemade with organic and seasonal ingredients—served with freshly brewed coffee, OJ, and care.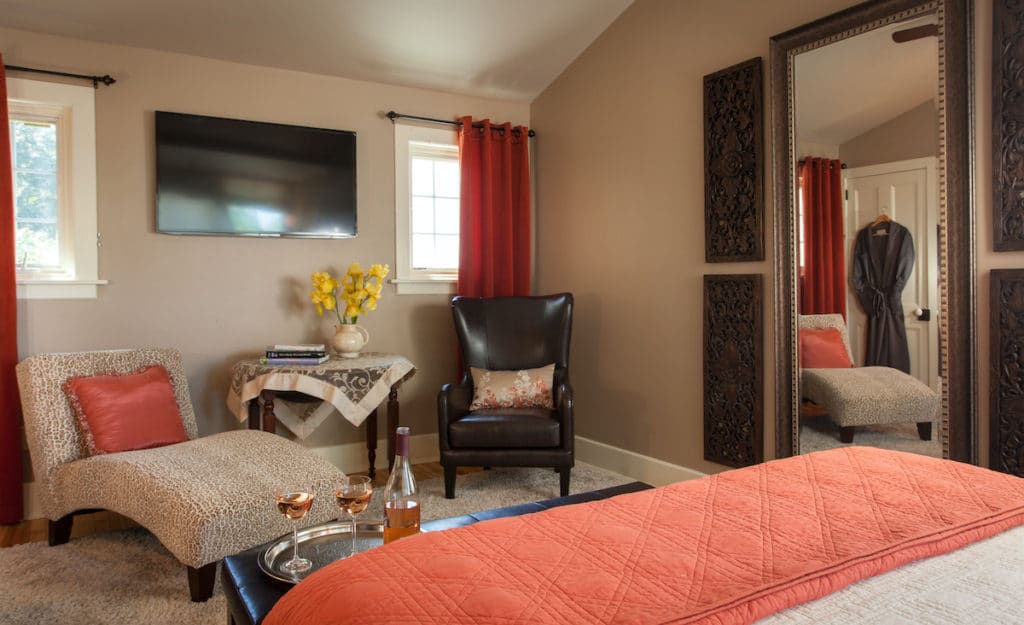 Each Unique Guest Suite is a Special Retreat
Find our Inn on a quiet, tree-lined street, set back from the hustle and bustle— the perfect place to decompress. As a guest at our Finger Lakes Bed and Breakfast you're here to relax and reset, and our knowledgeable and welcoming staff is here to help. Please allow us to assist you in making your stay as enjoyable as possible, whether that be making dinner reservations or setting up spa appointments, or even just offering advice for the best things to do in the Finger Lakes.
For especially romantic getaways, be sure to check our special packages and add-ons. These options change frequently and can often be the ideal addition for that extra perk to take your vacation from great to spectacular. Check our upcoming availability for the New Year and book your next stay today!