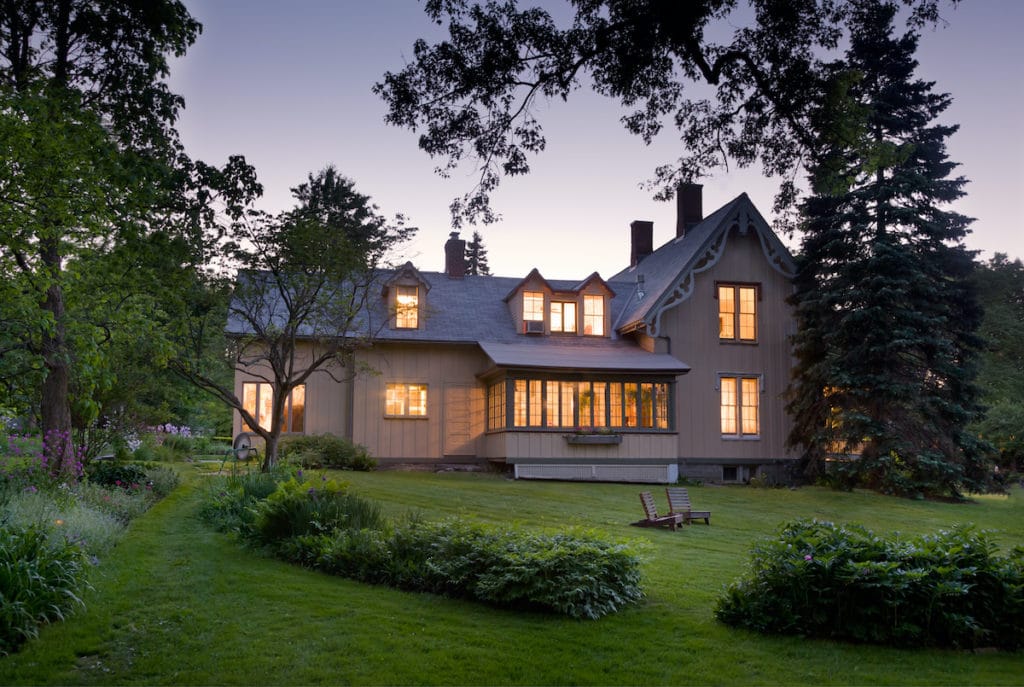 After the holiday season, we all could use a vacation—and thankfully, our Finger Lakes Bed and Breakfast is one of the best places to stay in Upstate New York. Whether you're looking for a quick weekend getaway to reset, a romantic trip of two, or a leisurely vacation exploring the Finger Lakes, the Inn at Gothic Eves is the perfect setting. From the moment you arrive, you'll feel a weight lifted, and you can release the stress of day-to-day life.
The area surrounding our Inn is picturesque, and there's an abundance of fantastic New York State Parks with lush forests, waterfalls, and lakeshores for outdoor adventures. You'll also be in the ideal location for a day of wine tasting at the nearby Finger Lake Wineries or lovely dinners out at unique local cafes and Finger Lakes restaurants. You're always more than welcome to bring your food and drink back to the Inn—for those still being cautious during these unprecedented times.
Our Finger Lake Bed and Breakfast is one of the best places to stay in Upstate New York for our impeccable service. Your amount of interaction with our personable staff is up to you, but we're always more than happy to make recommendations and fulfill your special requests when we're able. Start planning your next getaway to the Finger Lakes and book your stay today!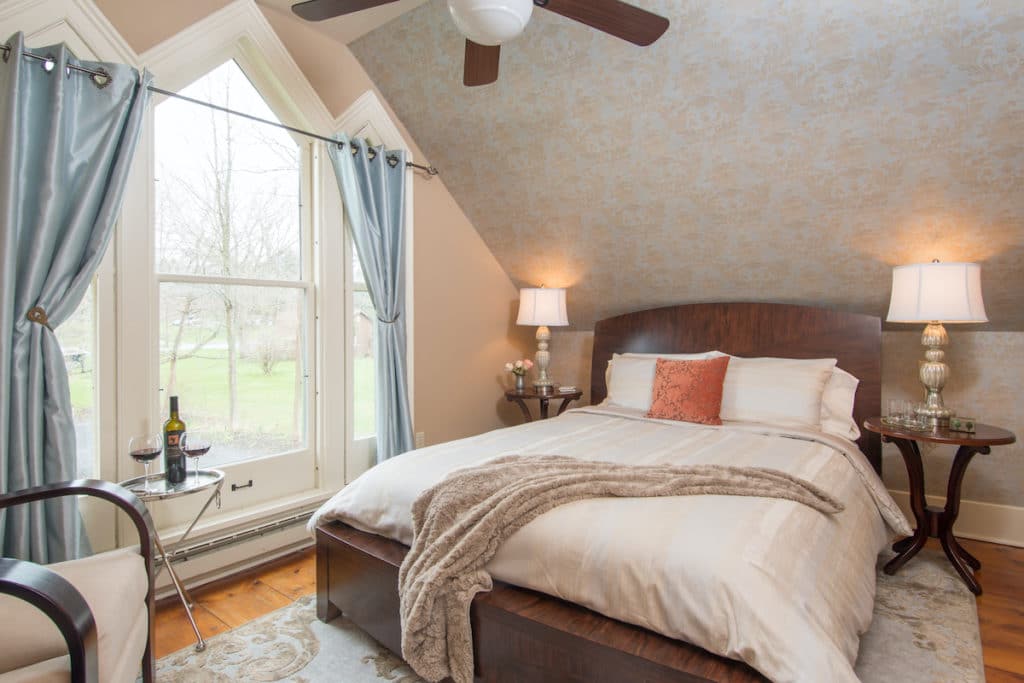 One of the Most Relaxing Places to Stay in Upstate New York
As we're often reminded by our lovely past guest's reviews, our Inn is definitely one of the most serene places to stay in Upstate New York—from our award-winning garden grounds, on-site spa services, and pristine guest suites—you'll be awash in luxury and calm.
Here are some of our favorite reasons that our Inn is one of the best places to stay in Upstate New York:
The ideal location in the Finger Lakes: Our guests are often so pleased by our central location and close distance to the charming village of Trumansburg. A wine tasing excursion to the nearby Finger Lakes wineries is always a treat. We're also just minutes away from the favorite nature area of Taughannock Falls State Park. Whether you're an avid outdoor lover or appreciate staying in on vacation, our Inn is ideal for both! When you're on the hunt for places to stay in Upstate New York, location is a significant factor to consider!
On-site amenities: As a guest at our Inn, you'll be welcome to make yourself at home. Our living area with a wet bar and dining room are beautiful spaces to inhabit. Be sure to make a reservation to soak in one of our outdoor private Jacuzzi tubs. Our one- and two-person hammocks are a perfect way to spend some quality time outdoors in the warmer months. And evenings around our fire pit are a must! The grounds are spacious and private but also within walking to downtown Trumansburg.
Finger Lakes Spa: We encourage all guests to arrange a treatment or two at our on-site Finger Lakes Spa. A massage (we offer 75 or 90-minute choices) is the ultimate way to start off your stay relaxed and refreshed. Our top-of-the-line infrared sauna is rejuvenating and cleansing—sessions are limited to two people at a time for a maximum of 20-minutes. The addition of our spa on-site sets us apart from other lodging options in our area and truly makes us one of the best places to stay in Upstate New York.
Stunning Guest Rooms: Our Finger Lakes Bed and Breakfast features six guest suites in the Inn's Main House and two additional suites in the Potter House. The Potter House is adjacent and connected by a charming patio. In each suite, find comfortable and modern appointments, including sofas and pillow-top beds dressed in fine linens, air conditioning, ceilings fans, picture windows for ample ventilation, room darkening curtains, and Wi-Fi.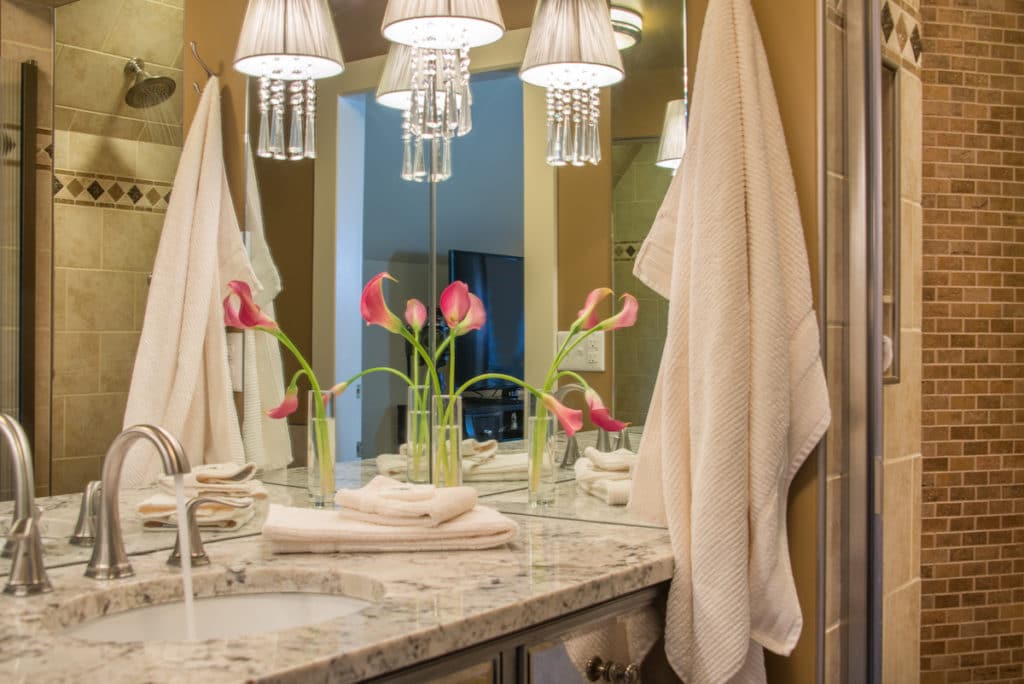 Luxurious Bathrooms: Each of our modern en suite bathrooms is equipped with high-end fixtures and custom materials. Marble, old-growth pine boards, travertine, and stone create these opulent spaces designed for pampering yourself. Slip into a comfy robe, pop a bottle of bubbles, and flip on Netflix for a night of pure relaxation.
Warm and welcoming service: The main thing that sets us apart from the other places to stay in Upstate New York is the importance we place on hospitality. Every guest here is a VIP from the minute they arrive and welcomed with a smile. Our attention to detail is apparent in the cleanliness of our space, our high-end touches, and our amenities designed for relaxing and kicking back. We can't wait to host you!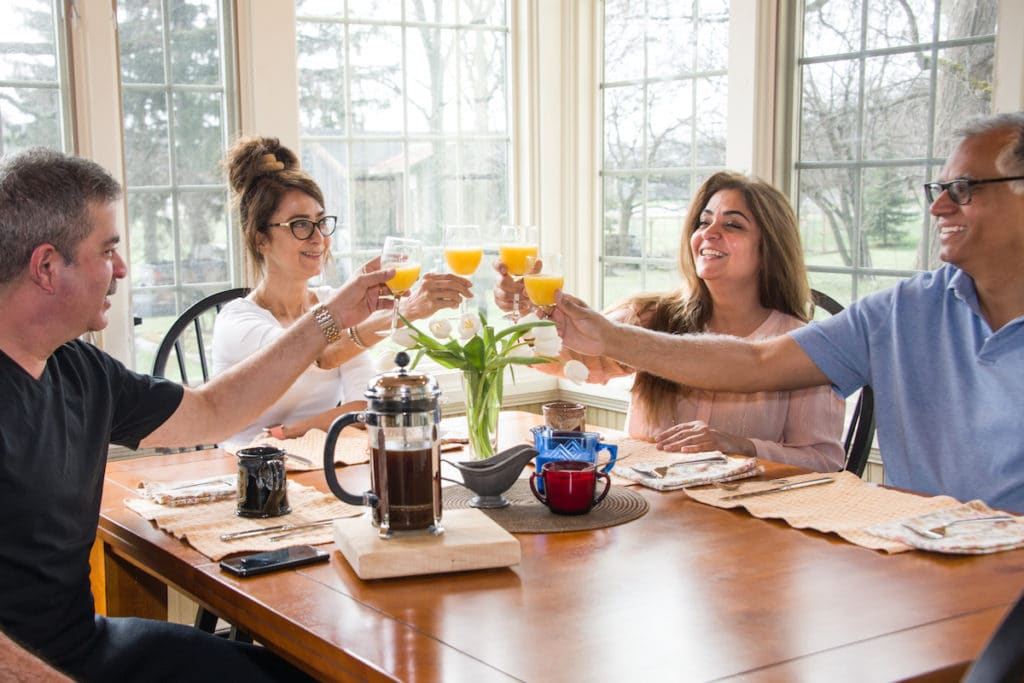 Delicious Morning Meals with Lively Conversations
We fully support the adage that breakfast is the most important meal of the day. Each day of your stay, you'll see that our healthy and hearty menu is prepared with foods in line with the seasons. Whenever possible, we use organic and local produce from purveyors that gather at our Trumansburg Farmer's Market. As well as from our own vegetable garden, grown with love, and including flowers and herbs.
Our bright and welcoming dining room is the perfect space to interact with our staff and other guests. If you're looking for hosted and personalized accommodations, then our Inn is by far one of the best places to stay in Upstate New York for your next getaway. Check our upcoming availability and treat yourself today!