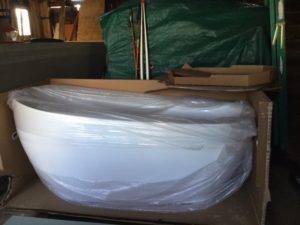 I have learned the way to keep moving your business forward is to always be thinking of the next step. Over the last five years or so I have worked hard to renovate the guest rooms, as well as the spa to meet my own standards and those of my guests. And right now I am renovating my personal space! Exciting, I know!
I have to pamper myself so I can pamper you!  
Here are some tips that I have learned over the years and find useful for a successful remodel. 
Have a conversation with your builder months ahead of construction


Future home of the tub!

You must play an active role

Build a rapport with the people doing the construction
Get to know their habits
Be available to answer questions

Be knowledgeable about materials, and construction
Be able to verbalize your design 
Anticipate a big mess and don't be surprised when it's even bigger
Be flexible with your end date – things just happen
Don't enter a construction project without plenty of money
Don't believe TV. It takes much longer than a week.


Previously, there were three rooms in my space – a small office, bathroom, and bedroom. Now I will have a larger bathroom and larger bedroom. And a CLOSET!