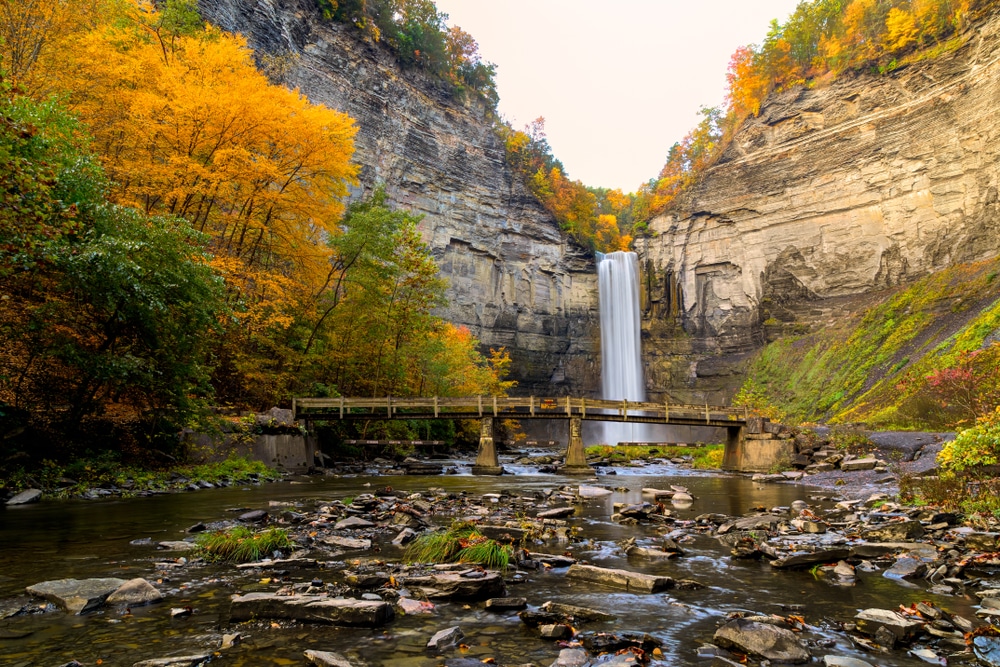 One of the main attractions in the Finger Lakes Region is Taughannock Falls State Park. The park's namesake feature, Taughannock Falls, is a breathtaking sight with 400-foot tall limestone bluffs encompassing the falls as the water plunges 215 feet over the cliffs to the gorge below. There's a lovely selection of hiking trails at Taughannock Falls State Park, from leisurely strolls to see the waterfall from below to more moderate routes to see the cascade from above. Either way, anyone who loves immersing themselves in nature will love this hotspot in the Finger Lakes. 
While Autumn is arguably the most beautiful season to visit, there are plenty of activities to enjoy throughout the year, such as hiking, kayaking, fishing, standup paddleboarding, swimming, and picnicking along the shores of Cayuga Lake. Fall brings a magical quality to Taughannock Falls State Park as the waterfall is framed by striking yellows, golds, and oranges as the hardwood trees change colors. Temperatures can also be a bit milder—hiking when there's a crispness in the air is always a welcome reprieve. 
For those who are planning on adding a stop at Taughannock Falls State Park on your trip to Upstate New York, our Finger Lakes Bed and Breakfast is perfect for your overnight lodging. For starters, we're only minutes from the beautiful state park, and from the moment you check in, you'll see that we're much more than just a place to keep your things and sleep at night. Our Inn is a destination for relaxation, wellness, and romance. Our guest rooms are luxurious, and our on-site spa offers top-of-the-line treatments. Plus, we'll make you a homemade, wholesome breakfast each morning of your stay! Start planning and book your room today!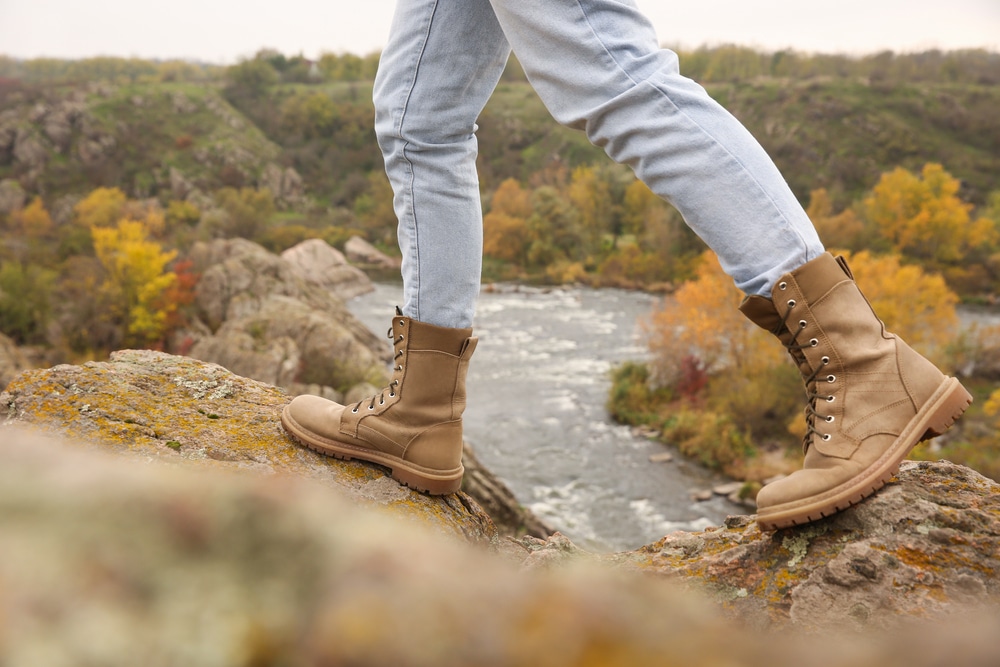 Explore the Hiking Trails at Taughannock Falls State Park
There are few more beautiful places in the Finger Lakes region than Taughannock Falls State Park—even more so in autumn with the fall foliage puts on a show. The stunning waterfall is one of the most awe-inspiring natural landmarks in our area. For those who enjoy hiking, you'll find this handful of trails an enjoyable outing for all skill levels and experiences.
Here are the four trail options at Taughannock Falls State Park:
There's more to discover at Taughannock Falls State Park, including birdwatching. Take time to watch nature in the beautiful hemlock forests surrounding the Taughannock Ravine. Many species of woodland birds call this home, and fall is a great time to see them as they migrate south for the winter. Common bird species include loons, owls, swallows, ravens, and vultures.
Or head to the shores of Cayuga Lake which also has a marina and swimming area.  This is a great place for boating, and there are canoe and kayak rentals available here if you don't have your own. The water here is ideal for a variety of different fish, including lake trout, yellow perch, and landlocked Atlantic salmon. There's many adventures to be had at this amazing state park!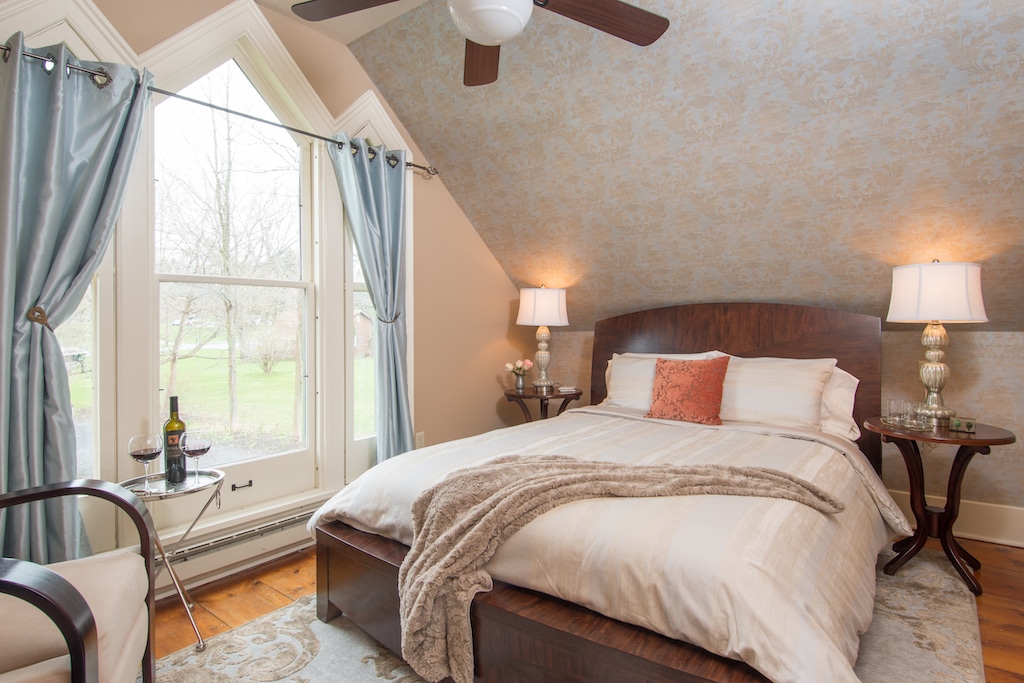 Location & Luxury at our Finger Lakes Bed and Breakfast
One of the greatest perks for outdoor lovers staying at our Finger Lakes Bed and Breakfast is our proximity to stunning nature areas like Taughannock State Park. Our Inn is in the ideal location for exploring the nearby hiking trails but also the downtown area of Trumansburg, with lovely restaurants and shopping opportunities. Also, for those who may be staying for an extended trip, the charming city of Ithaca is a scenic 20-minute drive. That is if you feel like leaving our luxurious property and your private guest room. 
Each of our eight rooms is tailored for a relaxing and comfortable trip, whether for a romantic getaway, a friend's vacation, or a solo retreat. Our tasteful decor brings an atmosphere of calm with muted tones and fun pops of colors and textures. Our rooms are spacious, with cozy seating areas and opulent en suite bathrooms with high-end touches—choice rooms include jacuzzi tubs and separate rain head showers. If you're traveling with another couple, the Syrah and Chardonnay Suites are ideal to book together!
There's a long list of other amenities we offer at our Finger Lakes Bed and Breakfast that make for a memorable stay! You'll love our morning breakfast service with fresh baked goods and savory entrees prepared with wholesome ingredients. After exploring the hike in the area, be sure to book a treatment in our spa in advance for the most restful activity after you've been out in the great outdoors. Check out our upcoming availability and make your reservation today!