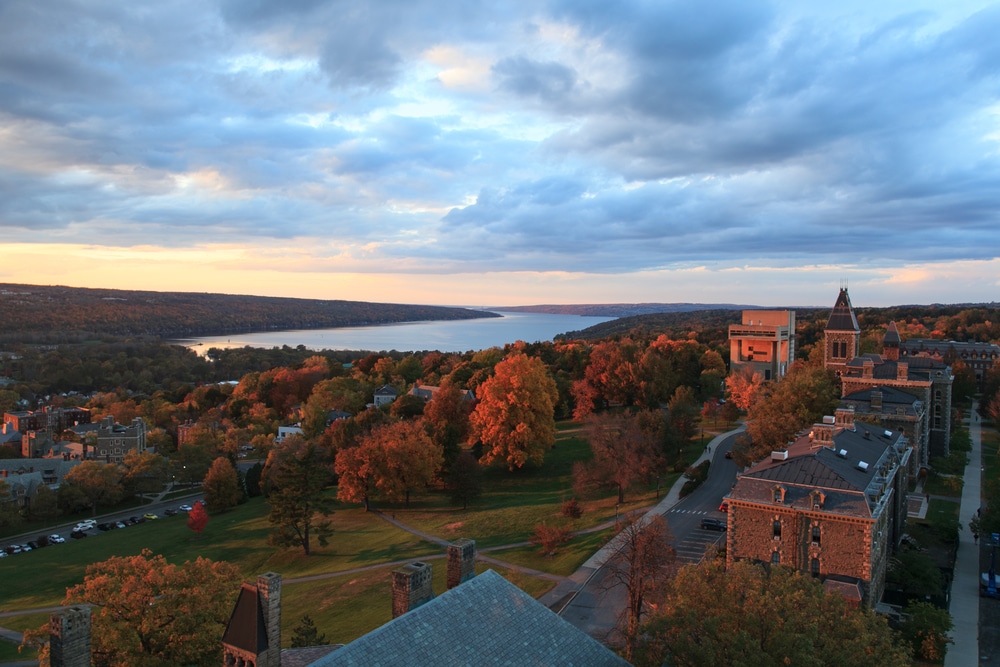 Nestled along the southern edge of Cayuga Lake, Ithaca, NY, is a delightful small city that offers numerous activities for a day trip in the Finger Lakes region. There are so many things to do in Ithaca this fall! You can explore the pedestrian-friendly downtown area with its variety of shops and eateries, indulge in wine tastings, enjoy happy hour at the Ithaca breweries, and savor delectable cuisine at the local restaurants. This area is also known for its natural beauty, so many visitors venture out to see the breathtaking waterfalls, nearby state parks, and hiking trails. 
One of the most popular things to do in Ithaca, NY, is to visit Cornell University, an Ivy League institution with a beautiful campus. Visitors enjoy exploring the university grounds, which feature impressive architecture, botanical gardens, and museums. The Herbert F. Johnson Museum of Art on the Cornell campus is particularly popular among art enthusiasts. The town hosts various festivals, concerts, and theatrical performances yearly. A historic venue, the State Theatre of Ithaca showcases multiple live performances, including music, theater, and comedy shows.
Visiting Ithaca for the day is a fantastic addition to any getaway in Upstate New York, but the best place to stay is just about 20 minutes from the downtown area in the charming village of Trumansburg. Our Finger Lakes Bed and Breakfast is a destination unto itself—when you stay with us, your lodging becomes a part of your experience instead of just a room for sleep. Our Inn is set back on a peaceful street with elegant guest accommodations with high-end touches. We offer a bountiful and healthful breakfast each morning and other special treats throughout the day. Join us at the Inn at Gothic Eves and reserve your room today!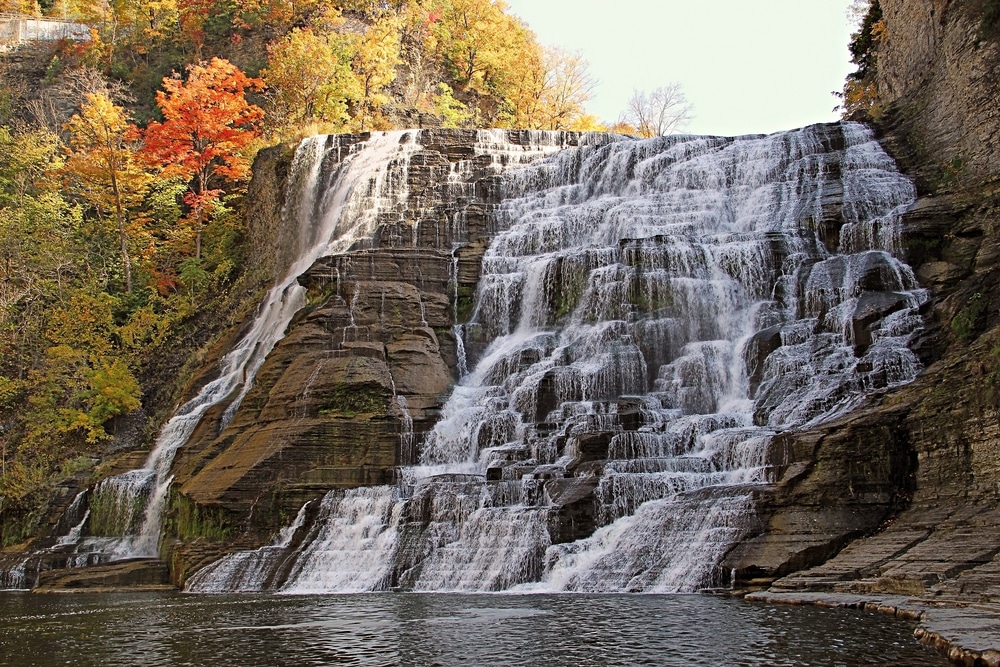 Fall in NY: Best Things to do in Ithaca
As a guest at our Finger Lakes Bed and Breakfast, you'll only be a 20-minute scenic drive to all of the best things to do in Ithaca, NY. From stunning landscapes and lakefront parks to world-class dining options and lively breweries, there's something for everyone. Here are our top eight things to do in Ithaca, NY, in the fall:
Tour the Cornell University Campus: This school was founded in 1865, so a tour through the historic campus is picturesque and informative. Take a self-guided tour through the historic buildings, The Herbert F. Johnson Museum of Art, and the impressive library. 
Cornell Botanic Gardens: Be sure to check out the Cornell Botanic Gardens, a 25-acre nature preserve with 17 specialty gardens. Tag along on one of the guided tours for a better understanding of their conservation work.
Best Hiking Trails in Ithaca: One of the most popular things to do in Ithaca is hiking! From the unique gorges and cliffs of sedimentary rock and fossils to the lake basins and waterways formed from ice melt. There's nothing quite like exploring these one-of-a-kind natural areas. 
Pop Down to Stewart Park: Located on the southern end of Cayuga Lake, this waterfront park is the perfect place for a picnic and some people-watching. This park also offers a great selection of outdoor recreation options, including kayak rentals, trails, and bocce ball. 
Lunch at Ithaca Beer Company: Part local brewery, part farm-to-table restaurant, the beer garden at Ithaca Beer is an excellent spot for an afternoon pint. Pair an ale with salads, pizza, and sandwiches for a casual lunch.
Fantastic Ithaca Restaurants: If you're looking to stop for dinner in Ithaca, there's a host of lovely fine dining and quick casual options. Our favorites are The Heights for Mediterranean cuisine or Cent Dix, serving excellent Parisian dishes. For more restaurant recommendations, head to our blog here.
Shopping in The Commons: This two-block pedestrian mall is in the heart of Ithaca near Cornell University. You'll find a fantastic selection of boutiques, craft shops, vintage goods, and much more.
Catch a Show at the State Theatre of Ithaca: In the fall, the State Theatre will reopen after renovations, and there's always a great calendar of concerts, comedy shows, and plays. This is one of the best things to do in Ithaca after a nice dinner out on the town. 
If you'd like more personalized recommendations for things to do in Ithaca during your stay at our Finger Lakes Bed and Breakfast, feel free to ask our helpful staff members.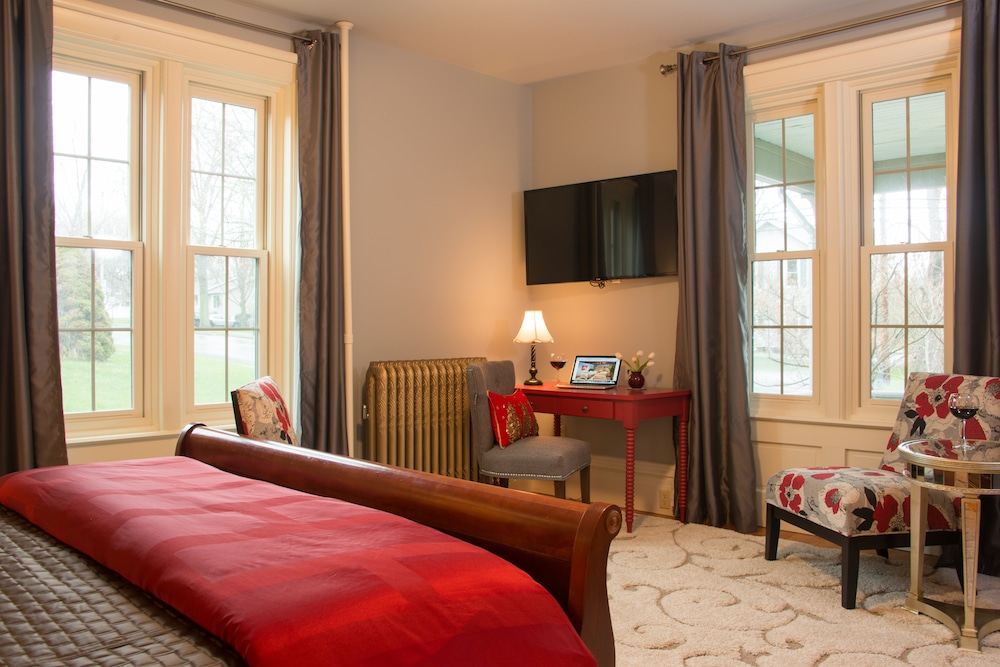 Relax in Luxury at our Bed and Breakfast in the Finger Lakes
While an autumn day trip filled with all of the best things to do in Ithaca, NY, is such a treat, there's nothing better than returning to our Finger Lakes Bed and Breakfast after a big day of adventure. You'll love retreating to your private and comfortable guest suite. Each room has a King or Queen bed, luxurious pillowtop beds and linens, plush bathrobes, Egyptian cotton towels, and pristine en suite bathrooms. Choice rooms have private porches adjacent to your suites and so much more. And you'll have access to two private outdoor hot tubs (ask about a time slot at check-in). 
Each morning, let us make you a delicious, made-from-scratch, gourmet breakfast during your stay. A hearty and healthy breakfast is the ideal way to start your day of adventure! It's our pleasure and is included in the cost of your stay. We source our ingredients locally and take immense pride in starting your day off on the best foot possible! After you've enjoyed your morning meal, feel free to explore our garden grounds. You'll find plenty of lovely seating areas and places to take in the sights and sounds of nature. 
For those heading to our Finger Lakes Bed and Breakfast with relaxation in mind, you'll want to book a treatment or two at our on-site Spa at Gothic Eves. We offer an array of fantastic services aimed to refresh and rejuvenate your mind, body, and soul. Here is where you'll also find our state-of-the-art infrared sauna. Spa treatments are the fastest way to set your romantic getaway apart from other vacations. Start planning your trip full of the best things to do in Ithaca. We can't wait to host you! Reserve your room today.