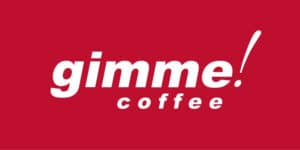 Coffee. Warm, fragrant, comforting is produced nearby Ithaca NY. I love it, and my Bed and Breakfast guests, do, too. But you may not realize that most coffee is grown on large plantations that required the clearing of acres and acres of rainforest or other native habitats. That's not so comforting.
However, folks who care about both sustainability and coffee have figured out a way to keep us feeling good about our morning brew. And our local baristas at Gimme! Coffee are among those who support sustainably-produced coffee. As much as possible, they choose beans that are certified as Fair Trade, Organic, Smithsonian Migratory Bird Center, and/or Rainforest Alliance. What does this mean to you? Fair trade means that the workers who actually tend the coffee plants that produce the beans earn a fair wage, while also promoting better social and environmental standards. Organic products are produced without pesticides or chemical fertilizers; the Smithsonian certification indicates both organic and shade-grown, which means that the rainforests are not cleared for these coffee plants. Shade-grown coffee is thus bird-friendly, as well as environmentally sound for all living things. The Rainforest Alliance also certifies coffee that is grown under certain environmental conditions, including a proscribed minimum number of trees per hectare; no alteration of natural water courses; and an attempt to limit child labor.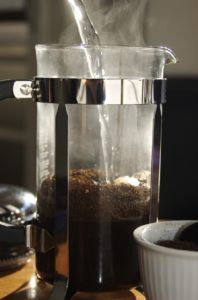 The overall impact of choosing sustainably-grown coffee (and other products) is an increase in biodiversity, preservation of natural habitats, and the support of living wages and better social conditions for the farmers who grow these crops. Over 90% of coffee production takes place in developing countries, while most consumption occurs in industrialized countries, such as the U.S., so making positive choices about where your coffee comes from can have a real impact on our planet and its inhabitants! If you know anything about the Ithaca NY region, you know that we care about our environment.
Because the U.S. doesn't have the proper climate for coffee-growing, it must be imported. However, once the beans reach the U.S., there is a great variety of roasting and/or blending skill that goes into producing your morning cup. Gimme! has its own roastery on a small farm right just South of Trumansburg, NY in the Finger Lakes area. Each small batch is given personal attention as it roasts, after which samples then proceed to the cupping room, where tasters as serious as any sommelier make the final determination as to the blends and roasts that are allowed to be packaged for Gimme! customers.
If you haven't guessed yet, the coffee at the Inn is sustainably-produced, locally-roasted, Gimme! Coffee, and I am proud to be able to support their efforts. Because of the personal touch given to all decisions about Gimme! Coffee, their locations are limited to New York City and the Finger Lakes area. So book your stay at the Inn, and be assured that you will be greeted each morning with a steaming cup of coffee that will make you feel good in every way.
Innkeeper Rose Hilbert
POB 95, 112 E. Main St.
Trumansburg, NY, 14886
info@f67.62d.myftpupload.com
www.gothiceves.com
1-800-387-7712
607-387-6033
fax 607-387-4035