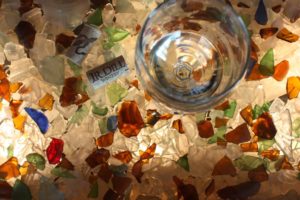 For about a year or so, I enjoyed watching the construction of The Seneca Lake Wine Trail's newest member winery, the J.R. Dill Winery in Burdette, a few miles north of Watkins Glen, New York. Although this winery is new to the Seneca Wine Trail, they intend to participate in all of this year's major Wine Trail events, and I wish them much success.
Jeffrey (J.R.) Dill began making wine in his parents' basement, following in the footsteps of his great-grandfather, who worked in the Finger Lakes vineyards over a hundred years ago. True to its heritage, the bright and airy tasting room includes a bar embedded with Seneca Lake beach glass, as well as early 20th century photographs of the beautiful Seneca Lake region. Visitors are welcomed with samples of vintages produced from Seneca Lake grapes, which can be enjoyed while comfortably taking in the lake view either from inside the winery or from the large outdoor deck.
Production at the winery is starting with about 1,400 cases, and J.R. plans to carefully increase his offerings to about 5,000 cases per year within five years. For those oenophiles interested in getting to know this Finger Lake winery better, a Case Club is offered. Winter hours at the J.R. Dill Winery are Friday-Sunday, 11 a.m.-5 p.m.; in-season hours are Monday-Friday 11 a.m.-6 p.m. and Sunday 11 a.m.-5 p.m.
When you visit the Finger Lakes wine region to acquaint yourself with the J.R. Dill Winery and (re-)visit the rest of the Wine Trail, I will be happy to host your getaway, whether it is a romantic getaway for two, a girlfriends' reunion, or a family vacation. While you're here, you can also explore the beautiful natural resources, shop local antique stores, and come back to the Inn to enjoy a soak in the wood-fired hot tub or a relaxing on-site massage. I'll also get you off to a scrumptious and fortifying start each morning with a signature gourmet breakfast that includes locally-sourced produce and eggs. I'll be happy to help you plan your visit and direct you to J.R. Dill Winery!
Innkeeper Rose Hilbert
POB 95, 112 E. Main St.
Trumansburg, NY, 14886
info@f67.62d.myftpupload.com
www.gothiceves.com
1-800-387-7712
607-387-6033
fax 607-387-4035