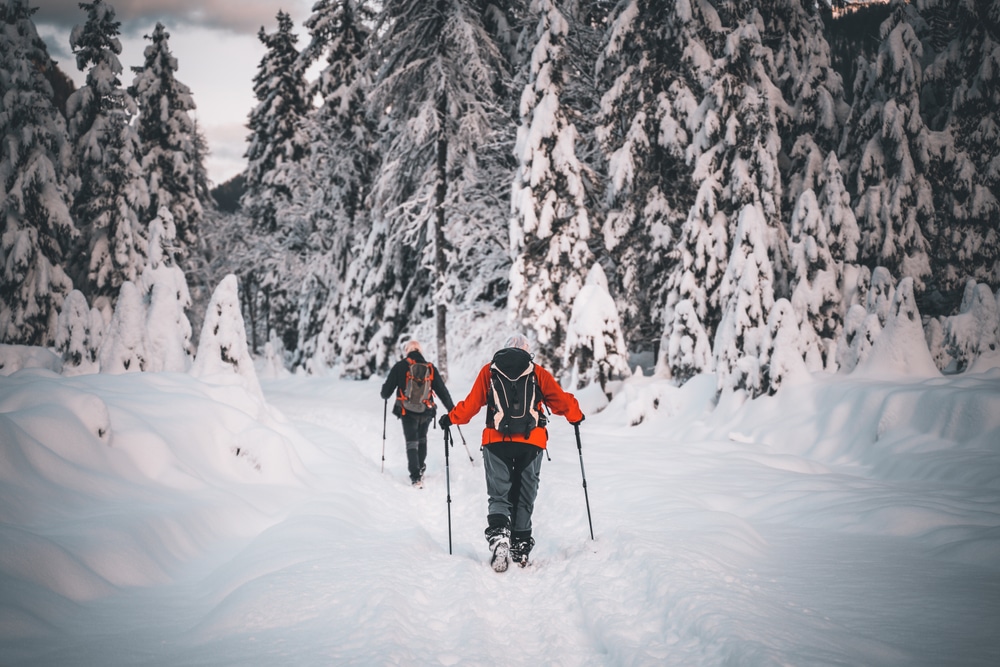 The Finger Lakes National Forest is an expansive park perfect for winter outdoor activities. With more than 16,000 acres tucked between the Seneca and Cayuga Lakes, you'll find 30 miles of interconnecting trails for hiking, snowshoeing, and cross-country skiing. Or for those who crave the wind in their hair, the Finger Lakes National Forest also hosts places for skiing, snowboarding, and snowmobiling.
If a scenic drive is more your speed, there are specific routes for the best views. Also, the Finger Lakes National Forest is home to 160 species of birds, and this winter/early spring is the ultimate time to give birdwatching a chance. Our Finger Lakes Bed and Breakfast is only about a short 10-minute drive from all of the outdoor activities of the Finger Lakes National Forest.
With the uncertainty of this year, being in the great outdoors has been a blessing. The spacious areas surrounding the Inn at Gothic Eves offer plenty of fresh air and the much-needed respite from the stresses of this time. Start your winter adventure by booking your room at the best B&B in the Finger Lakes area and then let the snowy fun begin.

10 Amazing Winter Adventures at the Finger Lakes National Forest
After you've gotten all checked in to one of our lovely guest rooms at our Finger Lakes Bed and Breakfast, you'll want to begin planning how to spend your time here in Upstate New York. Wintertime at the Inn is warm and cozy and there's nothing better than coming back after a long day adventuring in the snow of the nearby Finger Lakes National Forest. Here are 10 ideas to make the most of the outdoor play land that's right around the bend.
Downhill Skiing and Snowboarding: There are two main areas for these winter sports at the Finger Lakes National Forest. Brandon Gap located in the Rochester District offers skiers and riders backcountry recreation. The recently reopened Dutch Hill area, great for downhill skiing, is unique in that it's also a wildlife habitat.
Fat Tire Biking: These are mountain bikes on steroids. Fat Biking in the Finger Lakes National Forest offers access to trails under the right weather conditions that aren't always traversable during warmer months.
Hiking: With miles and miles of interconnecting trails, hikers of all levels and experience will find a trek that's right for them. For the novice, go for the 2.3 mile Finger Lakes Gorge Trail, or for the more experienced the Interloken trail clocks in at 11.3 miles.
Snowshoeing: For a quick winter's walk or a more advanced winter trails, you're going to want to fully gear up with your favorite pair of snowshoes and walking poles. Fresh powder is the ideal condition for the best snowshoeing, and the Finger Lakes National Forest has plenty of it.
Cross Country Skiing: Take on the trails here for a smooth ride on cross country skis. Not as intense as downhill skiing, this is the perfect way to glide through the day in the only national forest in New York state.
Snowmobiles: It's bring your own snowmobile here, but the area has designated trail areas for riders to zip through the snowy Finger Lakes National Forest. You'll want to read up on the rules and regulations before setting off.
Scenic Drives: If taking in the beautiful snowy scenes sounds most comfortable from the warmth of your own car, there are few scenic routes recommended by the Green Mountain and Finger Lakes National Forest service.
Birdwatching: This almost meditative activity has become more popular as of late, and the Finger Lakes National Forest is full of wildlife of all kinds. Bundle up and grab your binoculars to search for birds of different sizes and genus. More than 160 species of birds call the forest home, and if you're really lucky, you might even catch sight of the elusive snowy owls that winter in and around this area.
Good Old-fashioned Snow Ball Fight: Running around and playing in the snow releases endorphins and why not just really let it all go and let those snow balls fly?
Update your Instagram: The tall snow-topped trees, native wildlife, and brightly-colored jackets, and rosy cheeks make for a charming photo op. A trip to the Finger Lakes National Forest is nothing if not Instagram worthy. Update your story with these snowy vacation shots and it will surely be the envy of your family and friends.

Warm Up at Our Finger Lakes B&B After a Chilly Day Outside
After a long day of adventuring through the Finger Lakes National Forest, exploring downtown Trumansburg, or one of these winter activities, we would love to have you all set up at our highly-rated Finger Lakes Bed and Breakfast. With eight exclusive guest suites, you'll have privacy while feeling a world away from the daily grind of everyday life. Relaxation is our favorite word around here.
We truly believe that breakfast is the most important meal of the day. You'll see that reflected in the organic and local produce from New York's Sweet Land Farm and the Trumansburg Farmer's Market, as well as in the high-quality meats from Autumn's Harvest Farm. The healthy and hearty menu always changes with the seasons. Our breakfast is the perfect beginning to a day of adventuring in the neighboring Finger Lakes National Forest. Make sure to book your room here.