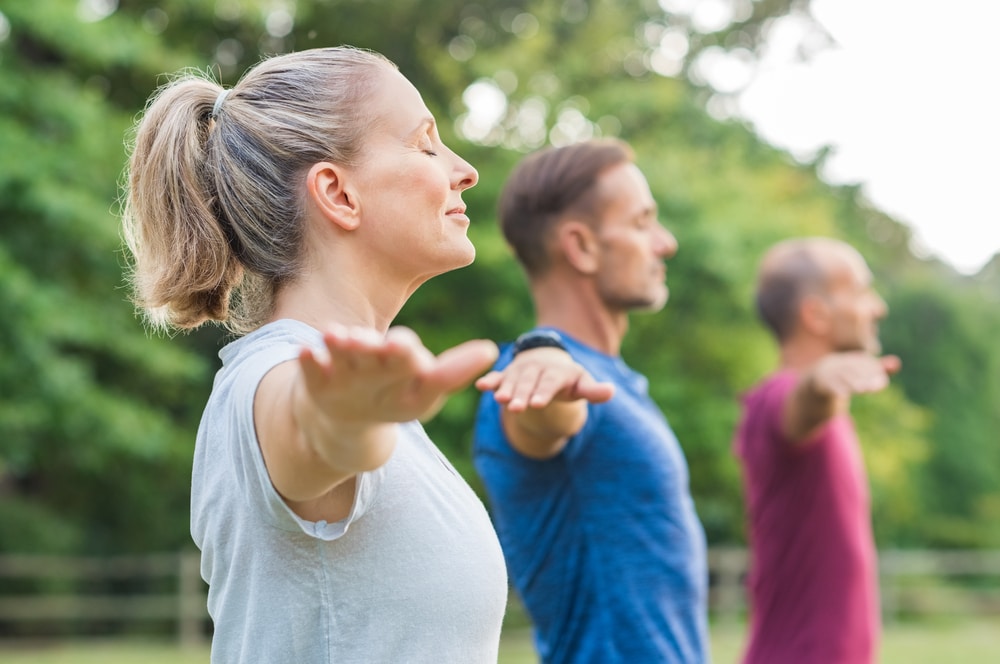 With the New Year, it's the time to set new intentions and resolutions for ourselves; more often than not, these goals include wellness and health, and our Finger Lakes Bed and Breakfast is the best place to reconnect your body, mind, and soul. We offer a luxurious space to relax and unwind—from our artfully-appointed guest suites and comfortable common areas to our on-site spa and nourishing breakfasts, you'll have everything at your fingertips for a restful stay.
Our charming small village of Trumansburg, NY, also offers an atmosphere of calm—with the bright lights, noisy traffic, and crowds of the big city behind you, you'll fully be able to breathe deep in this area of the Finger Lakes. If getting out into nature is your true calling, one of the most popular Finger Lakes State Parks is just a matter of minutes from our Finger Lakes Bed and Breakfast: Taughannock Falls State Park. Home to one of the tallest waterfalls in the country, it's truly a place to let the beauty of nature wash over you.
We also provide a long list of relaxing amenities at our Finger Lakes Bed and Breakfast. Make a reservation for a refreshing soak in one of our private Jacuzzi tubs, or enjoy an evening by the fire pit. Plan for some quiet time in our one and two-person hammocks during the warm weather, or stroll or practice yoga in our beautiful gardens, as nature can heal our soul. Our property is spacious and private but easily accessible and within walking distance of downtown Trumansburg.
Now's the time to focus on self-care! Check our upcoming availability for your next wellness retreat in Upstate New York and book your room today.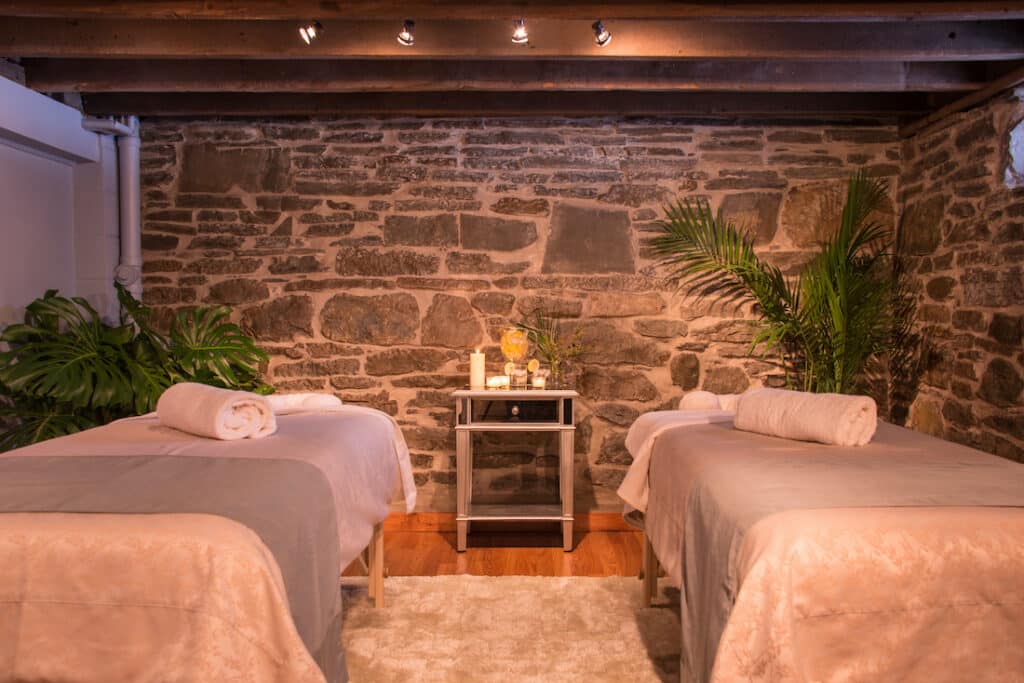 Our Finger Lakes Bed and Breakfast for Wellness in 2023
One of our resolutions for this year is to empower guests with the proper knowledge and tools to lead healthier, more fulfilling lifestyles. And our Finger Lakes Bed and Breakfast is the perfect backdrop for you to begin this wellness journey. Whether you find a quiet spot to stretch or practice yoga in our gardens, take a long bubble bath, or just find a cozy place to read a book, there are so many things you can do to reset your mind and body at our Finger Lakes Bed and Breakfast.
Here are the best things to do at our Finger Lakes Bed and Breakfast during your wellness-focused stay:
Book a Spa Appointment: One of the best ways to start your wellness retreat is in our Finger Lakes Spa. The Spa at Gothic Eves is a magical space of relaxation and rejuvenation. From classic massage (solo or couples) and uplifting facials and wraps to energy healing and crystal therapies, you'll find it all provided by professional and kind practitioners.
Reset in the Sauna or Hot Tub: The feeling of warmth comforts us, and you'll find multiple ways to encircle yourself in comfort at the Inn. Make a reservation for one of the outdoor Jacuzzi tubs, sign up for a time slot in the infrared sauna at the spa, and find welcoming fireplaces and cozy throw blankets to curl up under in your guest room.
A Nourishing Breakfast: We'll start your day with a thoughtfully prepared morning meal full of fresh, organic ingredients, some of which come directly from our own vegetable and herb garden on the property.
Relax on our Garden Grounds: Aside from our veggie plot, we've worked hard to maintain our beautiful flower gardens. It's such a beautiful backdrop for a wellness retreat! There's nothing like a mindful meditation practice set in nature with the hum of bees and gentle floral scents in the fresh breeze.
Sleep in and Lounge in Your Guest Room: Our luxurious guest rooms are the pride and joy at our Finger Lakes Bed and Breakfast. Each is unique with its own design and decor, but all are equipped with high-end appointments, the most sumptuous en suite bathrooms, and lush products for your relaxation. You'll sink into our uber-comfortable beds and enjoy long, restful nights, a massive part of feeling rejuvenated on your wellness retreat.
Lively Run Goat Yoga: One of the most memorable yoga classes you'll ever take will be with our neighbors at Lively Run Goat Farm this summer. They offer classes with adorable baby goats during June and July on Saturdays and Sundays.
Hiking at Taughannock State Park: Waterfalling is a popular activity in our area, and you'll find one of the most impressive examples just a few minutes from our Finger Lakes Bed and Breakfast. Taughannock Falls is truly a memorable experience to add to your visit, and you'll feel ever more connected to nature.
Coming soon! We have a lot in the works at our Finger Lakes Bed and Breakfast to tailor your stay even more toward a wellness retreat. This will include an itinerary of classes curated to your individual self-care goals and a guided morning meditation. Keep an eye on our blog and social media channels to stay up-to-date on our offerings: Facebook & Instagram.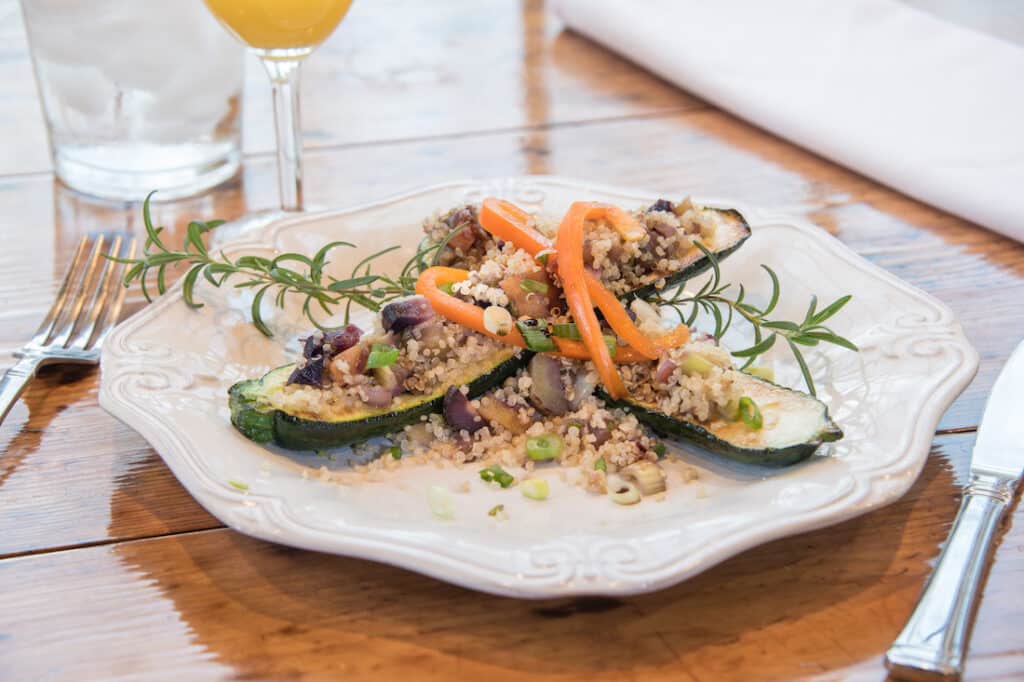 The Best Bed and Breakfast in the Finger Lakes
Our morning meals will be one of the most unforgettable parts of your wellness retreat at our Finger Lakes Bed and Breakfast. When you're focused on self-care and health, you want your food choices to reflect that, and here at the Inn, your breakfast will be packed with local fruits and veggies, whole grains, and made-from-scratch preparations. We offer these farm-to-table style meals to start your day on the right foot. You'll feel satisfied and ready to unroll your yoga mat, head out on a brisk walk, or pamper yourself at the Spa at Gothic Eves.
Inside our Finger Lakes Bed and Breakfast, you'll absolutely love relaxing in our luxurious guest suites. Each room is tailored for a couple's getaway, and our elegant appointments make it easy to make romance your number one focus. On the other hand, for those who may be traveling to us for a self-care solo retreat, you'll adore having a spacious and comfortable room all to yourself. Start planning your next wellness retreat and book your room today!